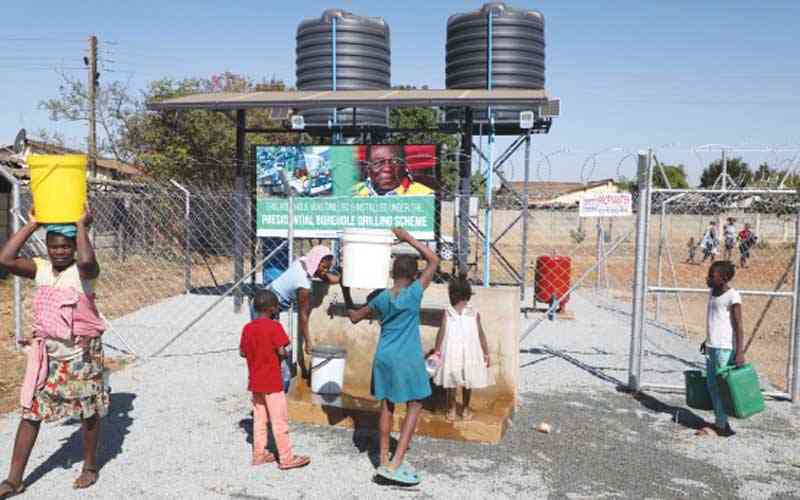 IN a surprise development, Zanu PF has re-commissioned a borehole in Epworth that was first commissioned eight months ago.
On Sunday, Zanu PF commissioned a borehole in ward 1, Epworth, the same borehole that was commissioned last year by the late Harare Metropolitan Affairs and Devolution minister Oliver Chidawu.
During its commissioning in May last year by Chidawu, there was pomp and fanfare.
The borehole only functioned for a month and then developed a technical fault.
Last week, Prevail International, which is in charge of the Presidential Borehole Scheme, rehabilitated the borehole prompting the Zanu PF leadership in the area to re-commission it.
Zanu PF district chairperson Washington Mashingaidze spoke glowingly about the presidential borehole drilling scheme to multitudes of supporters who attended after they were promised food handouts.
"We want to give thanks to our President (Emmerson) Mnangagwa for not forsaking our area. Our biggest problem in Epworth is shortage of water. We are happy with this new development because women had to wake up early in search of water. The President has also been developing roads and we now have traffic lights," Mashingaidze said.
Contacted for comment, Prevail International chief executive officer Tempter Tungwarara downplayed the re-commissioning of the same borehole.
"I did not gather anyone. That is not a re-commissioning at all. It is just that the first drill had no water and then we sunk another hole. It was installed recently and then opened," Tungwarara said.
Observers have described the stunt as a desperate attempt by the ruling Zanu PF party to woo voters ahead of general elections most likely to take place around July or August.
During the March 2022 by-elections, President Emmerson Mnangagwa promised to dole out title deeds to Epworth residents, but later backtracked on the offer.
After government made a U-turn on the issue of title deeds, Epworth residents, mostly living in informal settlements, are now restless.
National Housing minister Daniel Garwe said the title deeds could not be dished out on a silver platter.
In 2018, Epworth was won by the opposition MDC Alliance candidate Earthrage Kureva.
He was, however, recalled by the MDC-T led by Douglas Mwonzora after he declared allegiance to Citizens Coalition for Change leader Nelson Chamisa.
During the March by-elections, Kureva lost to Zanu PF candidate Zalerah Makari.
Meanwhile, Zanu PF vice-president Kembo Mohadi is currently in Mashonaland East province where he is meeting village heads to drum up support for the ruling party.
Mohadi is expected to tour all the nine districts in the province until February 2, to "grow the party".
The party leadership is also meeting district co-ordinating committee (DCC) leaders as Zanu PF intensifies its election preparations.
Mohadi has since toured Uzumba, Mudzi, Wedza and Marondera districts meeting party leaders and the traditional leadership.
Zanu PF has been accused of abusing traditional leaders, including village heads, using them in election campaigns, which is against the dictates of the country's Constitution.
Since independence in 1980, traditional leaders have been instrumental in campaigning for Zanu PF, which has used government-funded programmes to entice the rural populace.
Meanwhile, a Zanu PF affiliate known as Village Heads4ED has been launched in the province with its mandate being to bar the opposition from campaigning in rural areas.
In a video clip that has since gone viral on social media platforms, Mashonaland East provincial Village Heads4ED chairperson, one Arufandika said they formed the group to ensure that the opposition does not make inroads into rural areas.
CCC party secretary for rural mobilisation Happymore Chidziva said the move by the village heads was unconstitutional.
"It's just abuse of office because constitutionally, village heads and chiefs are supposed to be neutral and their mandate remains to safeguard our tradition, and not to interfere with politics," he said.
"However, this is not new, we have been winning elections under the same environment. We remain hopeful and confident enough that we will win the rural side for change."
Related Topics