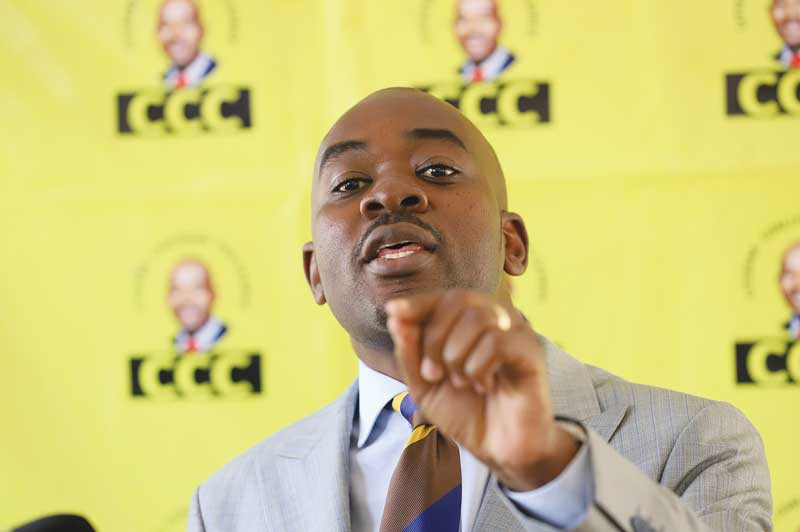 THE opposition Citizens Coalition for Change (CCC) says the relentless arrest of its legislators and supporters will not scare or deter the party from participating in general elections to be held later this year.
In a message yesterday to commemorate the CCC's first anniversary, party leader Nelson Chamisa said they had "moved mountains" in their first year of existence.
"In one year, you have excelled. Change champions, you moved mountains. Because God is in it you won 19 out of 28 parliamentary seats, and 89 out of 149 councillors in by-elections. Thank you for your solidarity and support for believing. You have supported us against all odds. A new Great Zimbabwe," Chamisa tweeted.
"We aim to win big to seal the presidency. Two-thirds in Parliament and choose both Speaker of Parliament and President of the Senate. We must attain a majority in local authorities. Citizens, let's do it again," he said.
Chamisa had previously insisted that his party would not participate in the elections in the absence of tangible electoral reforms, but seems to have softened up.
The youthful opposition leader launched the CCC on January 24 last year after months of bickering with Douglas Mwonzora over control of the Movement for Democratic Change (MDC) after the former ganged up with others in the party to challenge Chamisa's ascension to leadership following the death of the party's founding leader Morgan Tsvangirai in February 2018.
During the bickering, the MDC split, with Mwonzora wresting control of original MDC-T and Chamisa forming the splinter MDC-Alliance, which contested in the 2018 elections and won a sizeable number of parliamentary and council of seats, while Chamisa narrowly lost to Zanu PF leader Emmerson Mnangagwa in the presidential race, but has disputed the results.
In a crude political twist, in the following months after the elections, Mwonzora claimed ownership of the MDC-Alliance and triggered an intriguing process of recalling MDC-Alliance MPs and councillors who were refusing to jump ship.
Chamisa eventually lost the party headquarters, Morgan Richard Tsvangirai House, party finances under the Political Parties Finances Act and the MDC Alliance name to Mwonzora. He later regrouped with disgruntled MDC colleagues under the CCC banner, which has assumed yellow as its official colour.
Two months after its launch, the CCC participated in the March 26 by-elections in which it won 19 out of 28 parliamentary seats and 89 out of 149 council seats.
In his first anniversary message, Chamisa described all incarcerated CCC cadres as citizens' heroes.
Zengeza West legislator Job Sikhala has been languishing in remand prison for more than six months for allegedly inciting violence, while Budiriro legislator Costa Machingauta and Mkoba MP Amos Chibaya were arrested last week for convening an unsanctioned meeting.
"They are citizens' heroes. The onslaught on the yellow train sees us celebrating our first anniversary with our champions behind bars on spurious charges! Champions HON MPs Sikhala, Chibaya, Machingauta & Budiriro 25 are sadly under persecution," Chamisa said.
In an interview with NewsDay, the party's national deputy spokesperson Felix Magalela Sibanda said the greatest success of the party in its first year was winning elections in two months of its existence.
"Our road to democracy has been so painful, however, we made successes, and we also thrived in rural areas and grabbed Zanu PF's strongholds."
Sibanda also said there were some setbacks including the banning of their political rallies.
The CCC national deputy spokesperson said, nonetheless, the party was ready for the elections.
Related Topics