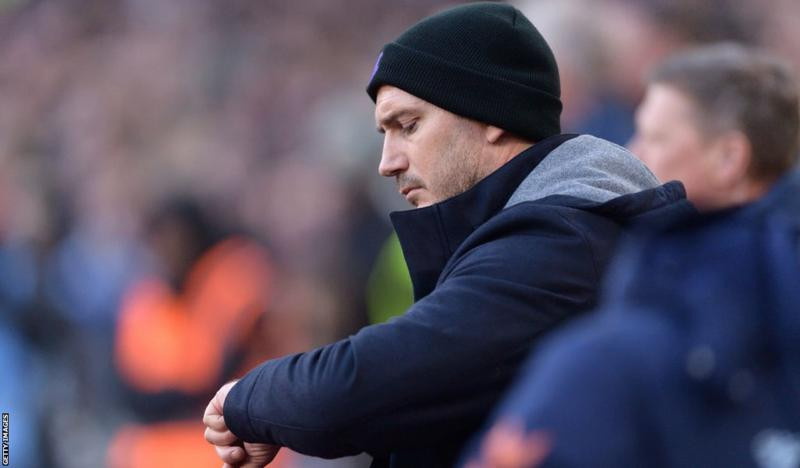 Frank Lampard is the latest manager to fall victim to the seemingly impossible job that is managing Everton.
Everton only secured safety from relegation to the Championship in last season's penultimate game and it was hoped this term would represent yet another reboot and fresh start.
Lampard, however, has failed to deliver an upturn and Saturday's 2-0 loss at fellow strugglers West Ham United, which left Everton 19th in the table with only three wins from 20 matches, brought the inevitable sacking.
The 44-year-old's win ratio was a dismal 23.68%, winning only nine of his 38 league matches in charge. Those statistics make grim reading for one of the great players of the modern game.
Where did it go wrong for Lampard?
In the same place it went wrong for the previous five managers - Roberto Martinez, Ronald Koeman, Sam Allardyce, Marco Silva and Rafael Benitez - sacked by Everton's volatile owner Farhad Moshiri.
Lampard has failed to get results, the most valuable currency in football. No-one can make a serious case to suggest Everton were showing signs of improvement.
He does, however, leave with a large measure of sympathy from many Everton fans. They warmed to a personality who engaged with them and showed an instant awareness of what he regarded as the club's historic place in English football.
After last season's close shave, Everton embarked on the time-honoured "strategic review" designed to ensure they avoided a repeat. All those plans were holed below the waterline, though, by the mishandling of the £60m sale to Tottenham of Brazil striker Richarlison, whose goals kept them up last season.
A lack of goal threat was a glaring weakness even before Richarlison left so the failure to line up a natural replacement was a dereliction of duty, whether that was on the part of Lampard or director of football Kevin Thelwell.
Everton banked heavily on injury-prone Dominic Calvert-Lewin staying fit - a gamble lost when he sustained a long-term injury just before the start of the season. It left them scouring a B-list of targets, a search that ended with the £12m signing of Neal Maupay, unwanted at Brighton and who has scored only one goal since his arrival.
Dwight McNeil was signed from Burnley for £20m with eyes on providing service for Calvert-Lewin but while he has fleetingly shown quality, he has quickly become a peripheral figure.
Everton's lack of goals - only Wolves have scored fewer than their 15 - has heaped pressure on their defence and while James Tarkowski and Conor Coady looked to have brought stability, they have looked increasingly fragile as the season progresses.
Amadou Onana, the 21-year-old Belgium midfielder signed from Lille for £33m, is raw, while the returning Idrissa Gueye has looked a shadow of the player who left Everton for Paris St. Germain.
Lampard faced a key spell after the Premier League restarted post-World Cup and to record a grand total of zero points from home games against fellow strugglers Wolves and Southampton, with a 4-1 thrashing by Brighton sandwiched in between, helped seal his fate.
The old football adage is that the three most important words in the game are "recruitment, recruitment, recruitment". Everton's strategy has been wasteful, seemingly without any structure.
Everton's starting line-up for Lampard's final game included players signed by five different managers; for the loss at home to bottom club Southampton, it was six.
One of Lampard's tasks was to somehow assemble something coherent from pieces assembled by others while adding his own. Like those others, the job proved beyond him.
Is Everton's crisis all Lampard's fault?
For a manager whose results have been so poor, there is actually goodwill for Lampard among many supporters, who saw his job as one that has defeated more illustrious managerial names.
The lack of antipathy from the fanbase towards Lampard also drives at where the wider blame lies - namely with owner Moshiri and those inside the Goodison Park boardroom responsible for the shambles that has caused this crisis.
Moshiri was unfortunate when his "Hollywood" appointment, Carlo Ancelotti, stunned him by returning to Real Madrid but doubts were already being expressed about whether even the man who has now won the Champions League four times could rebuild Everton.
Everton's supporters are in open revolt, with the board announcing they could not attend the last home game against Southampton for security reasons, although they were all back, along with Moshiri, at London Stadium.
With no trophy since 1995, Everton's fans are demanding the removal of chairman Kenwright. They see him as a constant of the barren years, having acquired the club from former owner Peter Johnson in 1999. The fans also want chief executive Denise Barrett-Baxendale to go.
Moshiri is often blamed for bad decisions, such as the appointment of former Liverpool manager Benitez in the face of fan opposition, but it was Kenwright who once boasted that other clubs looked to Everton's board for the right way to handle problems. Now, with the club's troubles mounting, there must also be directorial responsibility.
In Thelwell, Everton are also on their third director of football to be appointed on Moshiri's watch, after Steve Walsh and Marcel Brands, while the club have spent more than £500m to make the team considerably worse than it was when their owner bought into the club in February 2016.
Because of that spending, and the restrictions of Financial Fair Play, Everton have been stripped of their power to go back to the markets to solve their problems. Years of poor decision-making have come back to haunt them.
So this will be no easy job for Lampard's successor.
Related Topics