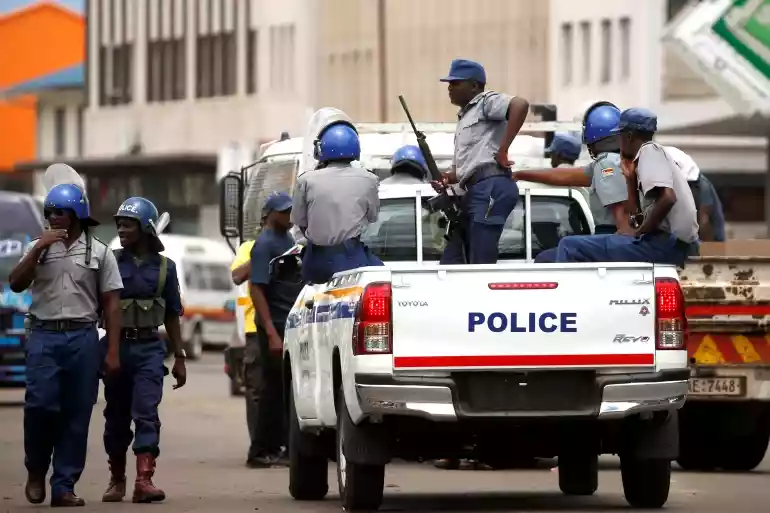 GOVERNMENT has tightened its noose on operations of civil society organisations (CSOs) that have been assisting communities with aid by reportedly subjecting them to strict monitoring by members of the National Joint Operation Command (JOC), it has emerged.
Information gathered by NewsDay shows that CSOs and international humanitarian and developmental organisations are conducting their operations under the strict watch of members of the Police Internal Security Intelligence (PISI) and Central Intelligence Organisation (CIO).
The organisations are being allowed to operate under strict guidelines and timeframes.
If they fail to comply, they risk having their memoranda of understanding with local authorities cancelled.
Other non-governmental organisations (NGOs) have also been complaining of cumbersome bureaucracy before their planned activities, a situation that has resulted in some of them considering withdrawing their services in areas of interest.
Crisis in Zimbabwe Coalition (CiZC), a grouping of over 80 CSOs, said the "tightened" security on their operations had a negative impact on ordinary people who were recipients of humanitarian aid.
"We are receiving multiple reports where our members are failing to carry out planned activities in different parts of the country due to various impediments which include government interference," CiZC spokesperson Obert Masaraure said.
"Local authorities are demanding budgets from the CSOs before they can be allowed to operate in an area. Other government representatives are demanding bribes from our members for them to be allowed to operate. The presence of State security (agents) has instilled unnecessary fear among the CSOs. This has resulted in delays in some activities which are meant to benefit ordinary citizens. Some organisations have already announced that they are withdrawing their services, a major blow to ordinary citizens," he said.
Home Affairs minister Kazembe Kazembe said he could not comment on the issue and referred NewsDay to the Public Service, Labour and Social Welfare ministry.
Public Service ministry secretary Simon Masanga said he could not comment on security matters.
"We regulate CSOs using the PVOs [Private Voluntary Organisations] Act," Masanga said.
"Any government agency that wants to partner us to enforce the PVOs Act is welcome. I am not privy to the JOC operation to comment on its alleged involvement in the operations of NGOs, but why would they (the CSOs) be afraid of being monitored by the security officers? If they have concerns, they should approach us and let us deal with their issues."
Information and Publicity deputy minister Kindess Paradza said: "If the organisations are duly registered and do their work above board, why would they be afraid of Zimbabweans watching their activities, unless what they are doing is secretive? Why would they not want the security officers to witness their activities? Members of JOC are Zimbabweans who have never stopped NGOs from doing their business, but they want to listen and learn. They are in charge of security, therefore, like any other country, Zimbabwe has laws that must be followed if operating within the country."
Public Service deputy minister Lovemore Matuke recently told Senate that government had set up a committee to monitor "hostile" NGOs, and plans were underway to deregister those charged with "wayward behaviour".
Government gazetted the PVOs Amendment Bill last year, saying it was meant to control money-laundering and financing of terrorism.
The Bill is before Parliament, but was superseded by the official opening of the Fifth Session of the Ninth Parliament last week.
It could still be reinstated on the Parliament Order Paper.
Critics have described the amendments as oppressive and unconstitutional, saying their aim is to abolish CSOs and their operations in the country ahead of the 2023 polls.
Historically, government has regarded CSOs as anti-establishment, pro-opposition and pushing for regime change.
Related Topics