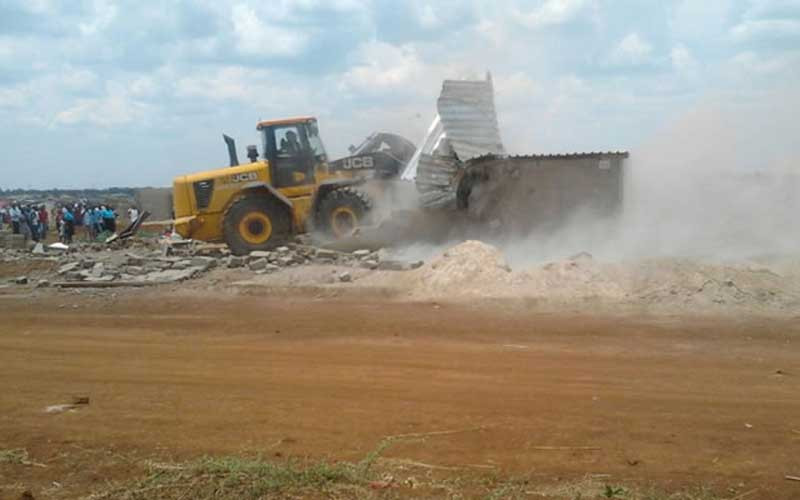 HARARE City Council has distanced itself from an ongoing operation targeting illegal structures, and accused government of being "heartless."
Government last week announced a 45-day crackdown against illegal structures in Harare, Chitungwiza and Ruwa that evoked memories of the now infamous "Operation Murambatsvina," a 2005 large-scale operation to forcibly remove slums around the country. The operation destroyed about 700 000 structures and affected 2,4 million, most of them in the informal sector according to human rights groups.
Citizens Coalition for Change councillor and chairperson of the Harare City Council's Small Medium Enterprise (SMEs) committee, Denford Ngadziore told NewsDay Weekender that they were worried about the demolitions at the start of the rain season.
"We are worried about the demolitions of murambatsvina. We are not part of murambatsvina by the government. l am told they are in Chitungwiza and they are coming to us. We are worried as Harare City Council. We are worried about the timing, we are in the rainy season," Ngadziore said.
"This is not the first time this has happened and this is heartless. l remember government demolishing houses in Budiriro during the rainy season (in June last year), leaving many people exposed to the rain."
Contacted for comment, Harare Secretary for Provincial Affairs and Devolution Tafadzwa Muguti said the council had not formally communicated its displeasure about the operation.
"We stand guided by the press statement we released recently that we are working together with all local authorities. Harare City Council have not formally communicated to us that they are not working with us, after what is wrong with helping them (Harare City Council) to remove dirty?" Muguti said
In a statement earlier, Ngadziore said the council had no plans to suffocate the informal sector through widespread demolitions.
"Our current plan is to create more small-medium enterprises trading places. The planning department is working on finalizing layout plans for new home industry sites, people's markets and other markets," the statement read.
Related Topics