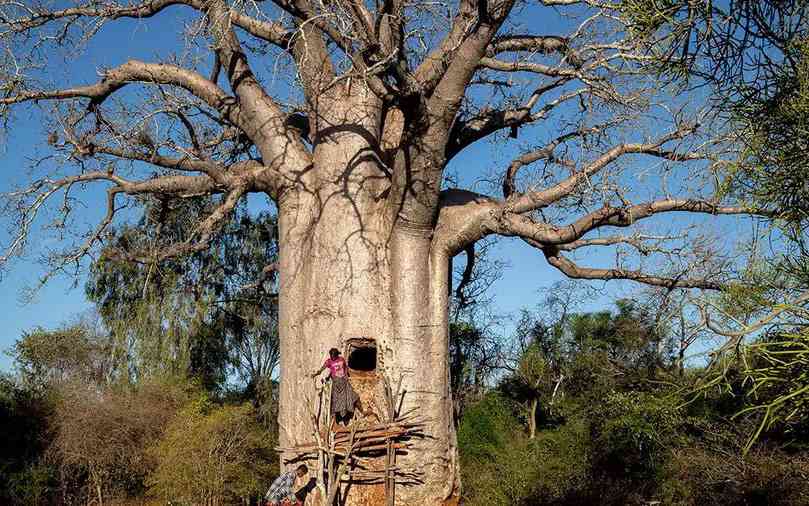 THE Baobab tree faces extinction in a few years as elephants are eating its bark a lot at Manapools National Park in mid-Zambezi region, the Zimbabwe Parks and Wildlife Management Authority (ZIMPARKS) has revealed.
Speaking to journalists at the weekend during a media tour organized by the African Wildlife Foundation AWF, area manager for Manapools National Park, Edmore Ngosi said: "The Baobab tree was one of the tourist attractions here. Tourists used to flock and have a look at the unique features of the tree, but because of the growing population of elephants, the species is dwindling in numbers. Elephants eat the baobab bark, thus most of these trees remain exposed to heat and eventually die."
The giant Baobab tree has long been revered as a way to survive drought in Southern Africa.
Families cook and eat the leaves as a vegetable. The fruits can be eaten raw or cooked into porridge. Baobab seeds also substitute for coffee, and the bark fibre can be woven into mats.
Experts suspect that the fungus which may be attacking the trees takes hold after a tree's bark is damaged. Extended droughts may also be stressing the trees, reducing their ability to withstand the fungus or recover from bark harvesting.
"Normally it takes six months or more for trees to recover after the barks have been removed for mats," White Moyo, a resident of Chirundu said. "And during this recovery time trees are susceptible to the disease."
He however said the Croton tree which is favoured by the black rhinos has been thriving in the park from the late 1980s to the 1990s.
"In the 1980s, there was an operation of moving the rhinos to further inland where they are safe. So when you temper with the ecosystem, something happens negatively. That is why this Croton tree is now thriving in the park because we no-longer have the rhino which used to feed on the plant."
With Zimbabwe struggling with a devastating El Nino-induced drought, which has decimated more than half of the country's food crops, many people in drought-hit areas of the east are now depending on Baobab trees for survival.
Follow Obert on Twitter @osiamilandu
Related Topics