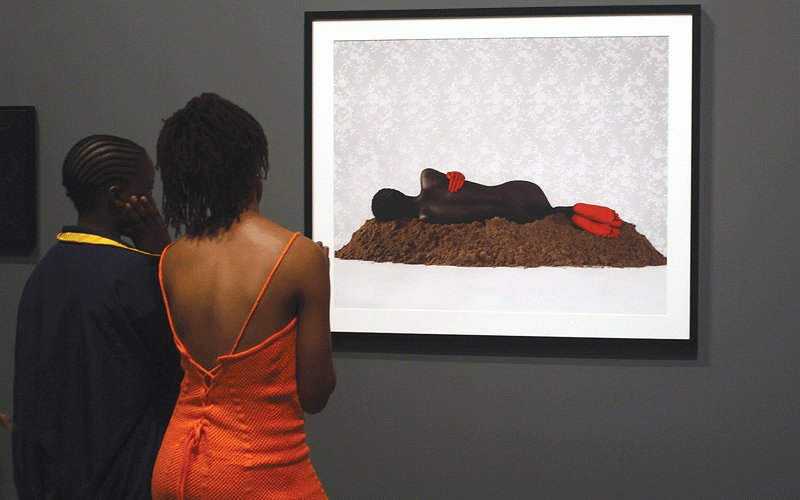 THE consistent participation of Zimbabwe's First Floor Gallery (FFG) and Village Unhu at one of Africa's premier art events, the FNB Art Joburg serves to amplify visibility, reach, and influence of visual art from Zimbabwe.
FNB Art Joburg is an annual art fair that showcases the best from institutions, galleries and artists from Africa and the diaspora.
This year's edition of the art showcase was held from September 8 to 10.
Through their participation at the art fair, Zimbabwean artists bring positive recognition to the country.
Apart from the two galleries, some Zimbabwean artists working inside and outside the country were also featured by their respective international galleries.
The ambassadorial role they play may be likened to that of Nick Price in golf, Peter Ndlovu, Benjani Mwaruwari and Bruce Grobbelaar in soccer, Kirsty Coventry in swimming, and the Black family in tennis.
Unlike the former beacons whose stars have dimmed, the role art plays remains relevant for contemporary culture.
Some artists have seen their better days and others have died, but their artworks appreciate value in private collections across the globe. At the FFG booth, students, art lovers, and collectors were mesmerised.
They came in droves over the three-day duration of the fair.
Staff manning the booth, which included co-founders Valerie Kabov and Marcus Gora, were kept on their toes most of the time by excited visitors who constantly engaged in conversations.
This year, the gallery presented the work of five artists — Troy Makaza, Gresham Tapiwa Nyaude, Amanda Shingirai Mushate, Zacharaha Magasa and Wycliffe Mundopa.
The exceptional thing about FFG is that before its artists take their work outside, they always showcase the artwork via FFG Harare and FFG Victoria Falls.
When they become international "rockstars", as Kabov is fond of calling them, there is a sense of pride and ownership from local followers.
At the FNB Art Joburg, the artists from FFG were a source of critical engagement and awe that would make any Zimbabwean burst with pride.
Over at the Village Unhu booth manned by co-founder Georgina Maxim and artist Nyashadzashe Marovatsanga, there was more intrigue and excitement.
The collective was showing the work of Maxim, Evans Mutenga, Epheas Maphosa and Nyashadzashe Marovatsanga.
Discerning art lovers showed appreciation for all the work, but there is no denying the attraction and animated reactions provoked by debutante Marovatsanga's installation titled In Case I go Missing.
The installation of drawings was recently exhibited at the National Gallery of Zimbabwe (NGZ) in Harare in the super-group exhibition titled A Gathering, which was curated by Fadzai Muchemwa and Zvikomborero Mandangu.
At the NGZ, the installation was presented with a disclaimer to keep away underage visitors because of its racy language and metaphors.
There was no such requirement at the FNB Art Joburg though.
The tremendous amount of pictures and selfies taken at the installation was ample proof that the 26-year-old artist speaks for his generation.
Zimbabwean artists and their work were not confined to booths representing the country, however, at the Goodman Gallery booth visitors were received by a massive and colourful painting by Misheck Mazamvu.
The artist is currently exhibiting new paintings in a solo show titled Pivot, at the Bernier/Eliades in Brussels.
At the South African gallery, BKhz's booth, another Zimbabwean artist, award-winning photographer Tatenda Chidora presents a powerful image of a nude black woman lying on a mound of soil with her back towards the viewer.
The high contrast image with saturated colours is shocking and spellbinding.
Based in Western Cape in Cape Town, South Africa, but hailing from Harare, Brett Charles Seiler presented a portrait made from bitumen and roof paint on canvas at the Everard Read booth.
Also, renowned sculptor Shepherd Ndudzo based in Botswana showcased his work at the Ora Loapi booth. Ndudzo's exquisite sculptures are made from ironwood combined with marble.
The much-decorated artist learned to sculpt at a young age from his father, well known sculptor Barnabas Ndudzo.
Among his artworks at the show were several pieces of graceful women that were inspired by his wife and daughters.
Related Topics