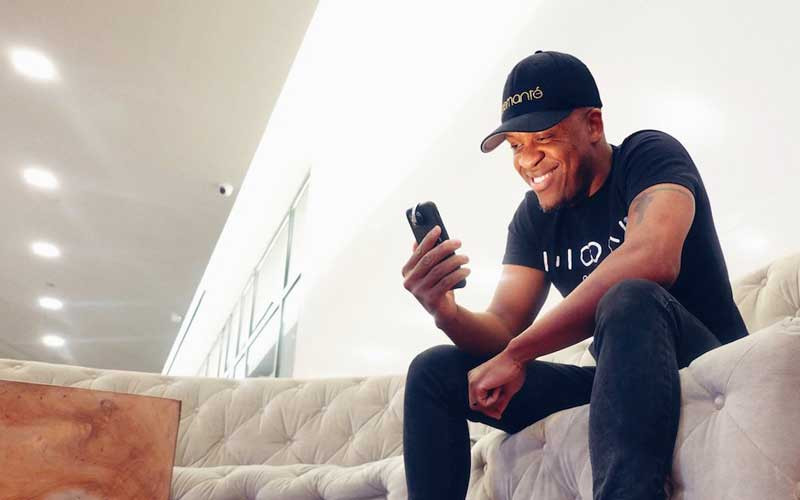 AMERICA-BASED Zimbabwean tech entrepreneur Edward Madongorere says, through MOON Ultra tech company, they seek to build a brand that stands for boldness, while designing products that shine on the world map.
Madongorere, together with Dishen "Dixon" Yang in 2017 co-founded MOON Ultra — a company that specialises in making electronic devices and to date it has been joined by many high-profile music entrepreneurs from across the globe.
As the dynasty continues to grow, Nigerian singer, songwriter and record producer Burna Boy, as well as American record executive and artists LA Reid recently joined MOON Ultra as investors.
The delighted Madongorere told NewsDay Life & Style last week that the coming on board of LA Reid and Burna Boy to join sports and entertainment stars who are also investors in the company was part of the plan to expand their network of investors, influencers, celebrities, pro-athletes and content creators.
"At MOON Ultra we are happy to be developing innovative products in line with our objective and mission to create attractively designed and well-executed products that inspire many under-represented men, women, boys and girls around the globe, to see the same potential in themselves," Madongorere explained.
"We are building a brand that stands for boldness and empowers everyone to be seen in every way. The idea to bring the two artistes (LA Reid and Burna Boy) is for them to pioneer a broad vision."
He continued: "The multi-award-winning Burna Boy is such a pioneer and visionary given what he is doing in his career. He is someone on top who wants to see change within our culture and he has the same vision with us around global innovation by Africans."
"His (Burna Boy) love for what we have created and enthusiasm for our growth potential made it easy for us to have him invest in our company, while LA Reid is pure, simple and has influence through his music and pop culture."
The MOON Ultra boss said they were happy that LA Reid and Burna Boy shared the same vision.
"From the moment we engaged them they saw the vision and were ready to help execute many of the objectives we had set by investing and using their industry influence to help us grow our brand into a household name," he noted.
The entrepreneur said they were working on bringing their products to Zimbabwe with the hope of inspiring local youths.
"For us this journey has also become part of our efforts to inspire the youths in Zimbabwe to dream big and see technology and innovation as paths to greener pastures," he noted, further indicating that they are planning to collaborate with content creators, distributors and other brands as technology and innovation have great potential for Zimbabwe to become a middle-class economy.
"I am excited to be having the opportunity to work with people from where I was born. For our 2030 vision we are planning to partner distributors, retailers and telecom companies in different countries to ensure consumers can find and easily have access to our products."
He added: "The idea is to enable content creators of today's world to tell better stories using our innovative products and tools to do so in the most effective possible way. There is also need to identify gaps in technological education and incubation is the best way to start to open the youths' minds to finding new creative ways to start or join companies.
"Entrepreneurship and investment into these new ideas will set us on a path to cultivate unicorn companies that will give back through more job opportunities and tax which will hopefully benefit the local economy."
Madongorere drew inspiration from his design background, resulting in the company's products being recognised by Fast Company (2022 Innovation by Design Awards), GDUSA (American Graphic Design Award — Best of 10 000+ entries) and TIME Magazine (Best Inventions of 2020), among others.
lFollow us on Twitter
@NewsDayZimbabwe
Related Topics