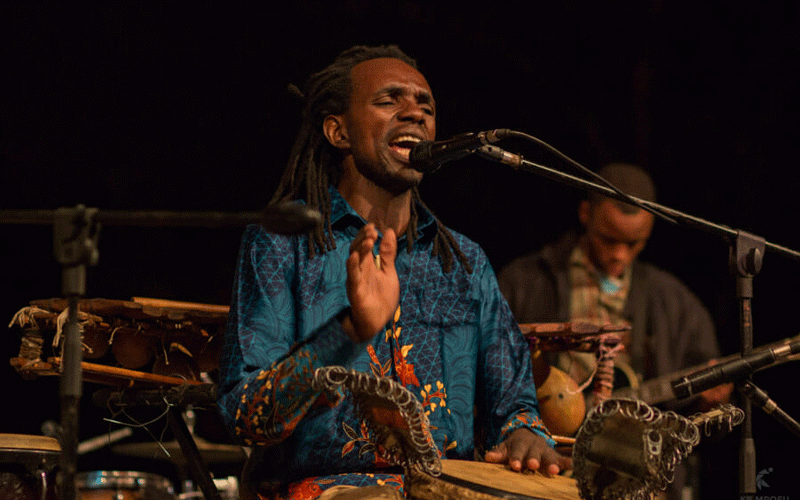 SEASONED drummer Othnell Moyo, aka Mangoma, was on cloud nine as his Music According to Percussion successfully captured Dzagogo DVD live recording at the Upstairs Venue of the Reps Theatre in Harare, amid a very attentive audience.
Moyo told NewsDay Life & Style that the highly-intertwined and yet in sync drum patterns unite African people through liberal movements and spirited singing.
A gender-balanced and tolerant Music According to Percussion paced up its songs adopted from several parts of the region, including Botswana and South Africa in a perfectly co-ordinated and sequenced performance.
The energetic act included culture-restoring songs from Dzagogo CD recording Volume 1 and several other impromptus like Dande, which starts off with Ngororombe and then nhare mbira, jenje drum, mhito drum, karembera drum, hand clapping and hosho.
The rhythm pattern called chidzimba and the mbira instrument played in Zezuru style harmonised in different octaves were good enough to glue the audience to the stage which had somehow a congested visual clutter.
Ihlathi, a Nguni song followed as a popular traditional song Karigamombe played on Zezuru nhare mbira in gandanga or mavembe tune accompanied by heavy drumming drove the audience into mild dance. Kokorigo, Kuyidya hove, Mayenza, Mbirimi, Nyahora and Nyamamusango are the other songs that the audience enjoyed listening to.
In a backstage interview, Moyo said: "Music knows no barriers and the act we performed shows that we were culturally united as Mutapa State, that is parts of Zimbabwe, Mozambique, South Africa and Botswana had different cultures but united in one way or another. One should not be surprised by the shared drum patterns in music traditions of Africa as each one can simply find space in another's music."
The widely-travelled Moyo added that the live recording would help people to understand Zimbabwe's music traditions more, while enjoying a full view of their ensemble at work.
"I have been to all corners of Zimbabwe learning how to build and play different traditional music instruments, (how to play the) drum, sing and dance and realised that music instruments do not have any spiritual connections and are just for entertainment.
"Music instruments for traditional spiritual purposes are made and strictly preserved for that purpose," Moyo said.
Chiedza Tiyenga aka Chichi Wembira, who danced and sang beautifully, cherished the lifetime experience of being captured live on stage. The house got stunned as Tafadzwa Bare, who was on keyboards, jumped off his stool to join in saluting the audience. Vivian Tavaziva and Blessing Bongo blended well in drumming, singing and dancing.
Music According to Percussion ensemble members are Othnell Moyo (drums and mbira), Takudzwa Bare (keyboards), Zvikomborero Matimba (bass guitar), Chiedza Tiyenga (mbira, hosho, mapadza, nyere, dance and vocals), Melody Mtembo(Western drums), Vivian Tavaziva (dancer, vocalist, ngoma, ngororombe and hosho player), Blessing Bongo'o (dancer, vocalist, ngoma and ngororombe player), Kudzai Muwori (marimba, ngoma and ngororombe player).
Overall, the veteran drummer Blessing Chimanga-produced event was full of entertainment and everyone longs to get the edited copy of the Dzagogo live DVD recordingt.
Follow us on Twitter @NewsDayZimbabwe
Related Topics