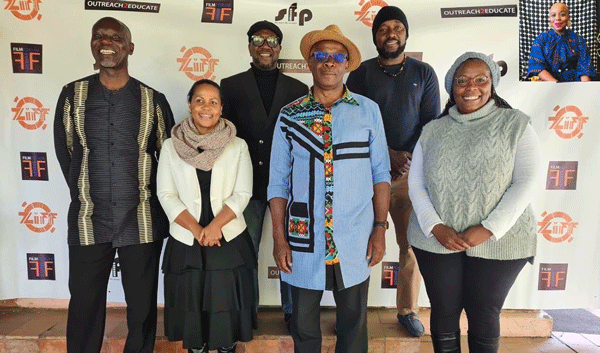 BY WINSTONE ANTONIO The Zimbabwe International Film Festival Trust (ZIFFT) has inaugurated a seven-member board in an endeavour to take the organisation to new heights.
The new board is made up of a dynamic grouping of seasoned professionals in various sectors.
On the board are Sapi Bachi, Chenesai Mangoma, Comfort Mbofana, Joe Njagu and Dumisani Nkala.
The board also includes outgoing ZIFFT executive director Nigel Munyati and theatre guru Daves Guzha, who was part of the previous board.
ZIFFT executive director Solomon Maramba said the high performing professionals are geared to drive the organisation's vision with their passion, experience and dynamism.
"We are excited about the future of ZIFFT and the critical programmes run by the trust. The board is enthusiastic and has an energy that is infectious," Maramba said, promising amazing times ahead.
"The value of the network, the skillset and the love for the Zimbabwean creative sector available to the organisation and the secretariat through this board is beyond measure. ZIFFT is set on a trajectory to really transform the creative sector and the film sector in Zimbabwe and we are excited and honoured to be a part of this journey."
A quick search for some of the board members' profiles shows that Sapi has over 20 years of experience in the communications industry in southern Africa.
She is the executive director of Full Circle Communications (Pvt) Ltd, a non-executive director for Zimbabwe Advertising Research Fund and is chair of the Advertising Standards Authority.
An entrepreneur, Sapi is also a member of the executive committee for Zimbabwe Association of Accredited Practitioners in advertising and a member of the Institute of Directors Zimbabwe and Marketers Association of Zimbabwe.
She has worked in various capacities in areas such as business development, corporate communications, branding, marketing, change management, content production, digital transformation, transition planning, project management, sales and product development.
Mangoma is a project leader, qualified lawyer and trade strategist in the creative industry across Africa.
A community engagement specialist, Mangoma is a global leader with over 12 years experience building and leading teams.
She has grown beyond her legal background to build a multi-disciplinary career that cuts across fashion, creative economies, international trade, community upliftment and education sectors.
Mangoma was a manager in training at Capital One Finance in the United States of America, an assistant lecturer at the University of Pretoria, and a professional assistant in law at Honey and Blackenberg Zimbabwe.
She serves on various local and international boards such as the African Continental Free Trade Area (AfCFTA) Youth — a recent appointment.
Mbofana is a renowned player in Zimbabwe's media with extensive experience in the creative industries. He worked in both the print and broadcasting sectors as a reporter and producer before rising through the ranks to become a media executive.
He is currently the general manager of the Zimpapers Radio Broadcasting Division.
Mbofana has also been an advertising executive — starting in client management before going into management.
He was founding director of one of the top advertising agencies in Zimbabwe with a strong regional footprint (Malawi, Zambia and South Africa).
Nkala is a results-driven and goal-achieving management professional. She has about 20 years of experience in the telecommunications industry in general management, business development, business transformation, product management and development relationship management and leadership.
She is a strong driver of organisational change and transformation.
Nkala is a leader at all levels being the executive director on the board of directors of Telecontract (Pvt) Ltd t/a Telco since 2008.
She is also a non-executive director on the board of trustees of Barbara C Makalisa Literary Trust (a trust for the furtherance of indigenous languages) since 2019 and was executive director on the board of directors of Zinandi Telecommunications Ptv Ltd (South Africa) from 2005 to 2014.
She is the founding chairperson/secretariat for the Blockchain Association of Zimbabwe, a founding member of the South African Telecommunications Service Providers Association in 2010 and is the secretary of the Zimbabwe Internet Access Providers Association.
Meanwhile, a four-day treat awaits film enthusiasts as ZIFFT is set to host this year's edition of the ZIFF across the country in an effort to grow the festival from the ashes of the COVID-19 pandemic
This year's 22nd edition will be a four-day film fiesta to be held under the theme Reconnecting from September 14 to 17.
The film festival's mission is to discover and develop local filmmakers, artists and audiences.
It also seeks to contribute to vibrant, socially and politically-relevant African story-telling through film.
Follow Winstone on Twitter@widzoanto