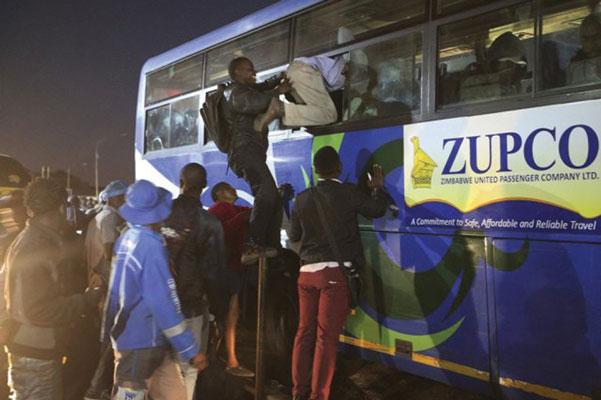 FROM the time when government banned private commutter omnibuses and introduced the Zupco monopoly, the public transport system has failed to cope with demand.
In the few past weeks, Zupco was exposed for failing to pay the bonded operators their dues, resulting in drivers embarking on an industrial action, leaving scores of passengers stranded.
Sometimes the company's  fleet is grounded owing to fuel  shortages and unavailability of spare parts. This boils down to mismanagement of the parastatal.
The State is provoking public anger by fining commuters $2 000 if they board pirate taxis instead of Zupco buses.
On this note, we would like to appeal to the government to open up the public transport industry to other players in line with international transport treaties and the Road Motor Transport Act.
If this is done, it will resuscitate and improve our transport industry. Remember Zimbabwe is open for business, not for monopoly . Paul Makiwa: Secretary-general of Zimbabwe Passengers Association
Devolution panacea to development
THE local governance system in Zimbabwe will continue to suffer due to the reluctance of the central government to enact laws governing devolution of power.
Instead of devolving power, it seems the central government is on a drive to recentralise everything.  If we are not careful, local authorities will be stripped of the little that they must deliver to the citizens.
The funds disbursed in the name of devolution as stipulated in section 301(3) of the Constitution should have been disbursed to local authorities to decide which projects to undertake.
However, the central government has dictated which projects to do and it has directed the funds to go to roads rehabilitation projects under the Emergency Roads Rehabilitation Programme Two.
If the government declared the state of roads as a disaster, then the most ideal intervention would be for it to mobilise other resources targeting roads and allow local authorities to utilise the funds meant for devolution to be directed where local authorities see fit.
Zimbabwe's local authorities will never reach high levels of competence as long as the central government assumes that it has more competence to do what local authorities are constitutionally established to do.- Precious Shumba