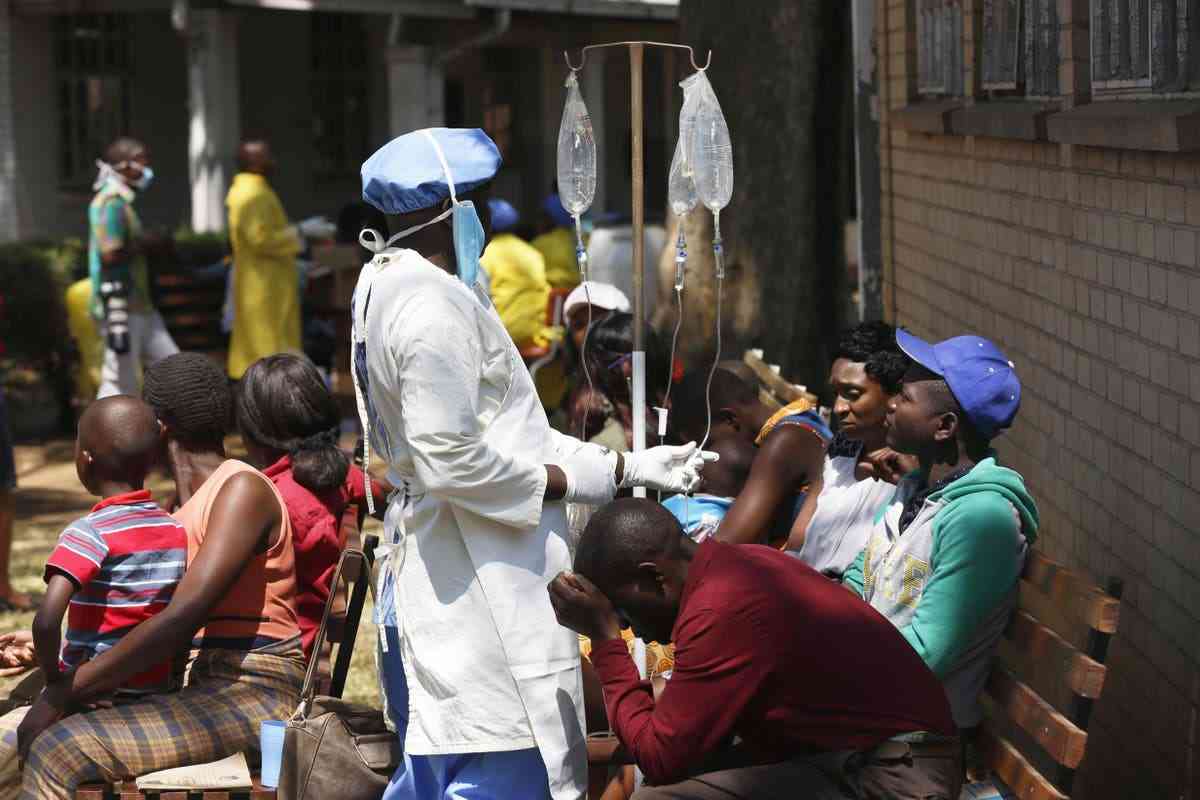 AS at October 29, 2023, Zimbabwe had recorded 5 964 suspected cholera cases, 1 055 confirmed cases, 5 696 recoveries, 43 confirmed deaths and 123 suspected deaths.
One-hundred and eight new suspected cholera cases were recorded with three suspected deaths and two laboratory confirmed results.
The cases were reported from Chitungwiza (34), Buhera (31), Harare (11), Mutare (11), Gutu (11), Zaka (4), Chipinge (3), Chegutu (2) and Sanyati (1).
Forty-three districts have reported cholera cases so far, with 102 hospitalised at Chiredzi (2), Zaka (3), Gutu (6), Bikita (3), Buhera (38), Chipinge (13), Mutare Rural (14) Chimanimani (1), Makoni (2), Beatrice Road Infectious Diseases Hospital (10), Chitungwiza (4), Uzumba Maramba Pfungwe (1), Chegutu (3), Sanyati (1) and Bindura (1).
The country recorded 34 new recoveries with a national recovery rate of 97% and cases in-care at 102.
The situation is dire and we need support to combat this crisis.
The cholera outbreak has spread rapidly, affecting 43 districts across Zimbabwe.
Currently, 102 individuals are hospitalised, requiring immediate medical attention.
The Africa Health Organisation is working tirelessly in collaboration with the Zimbabwean government to provide vital technical assistance and supplies, including water purification tablets and oral rehydration salts.
Our aim is to contain the outbreak and prevent further loss of lives.
Preventing the spread of cholera requires a collective effort from all stakeholders. The Africa Health Organisation urges everyone to adopt the following preventive measures:
lFrequent handwashing: Wash hands thoroughly with soap and running water, especially after using the toilet or before eating. This simple act can significantly reduce the risk of infection.
Safe food consumption: Avoid consuming raw or undercooked meat. Ensure that all food is properly cooked and handled hygienically to prevent contamination.
Safe water consumption: Drink treated or boiled water to minimise the risk of cholera transmission. The Africa Health Organisation is actively involved in providing communities with access to clean water sources and promoting water treatment practices.
Hygiene practices: Maintain good personal hygiene by practising proper sanitation, including the use of clean latrines and disposal of waste in designated areas. Educating communities about the importance of hygiene practices is crucial in preventing the spread of cholera.
The Africa Health Organisation recognises the significance of raising awareness about the cholera outbreak and mobilising support.
We are actively engaging communities through targeted awareness campaigns, disseminating information about preventive measures, and educating individuals about recognising early symptoms of cholera.
Furthermore, we are leveraging on our partnerships and networks to garner support, both in terms of financial resources and essential supplies.
The Africa Health Organisation is committed to working hand-in-hand with the Health and Child Care ministry and our partners to support the people of Zimbabwe during this challenging time.
We implore all our friends and partners to join us in this critical effort.
By combining our resources, expertise, and determination, we can effectively prevent the spread of cholera and save lives.
As the cholera outbreak continues to wreak havoc in Zimbabwe, the Africa Health Organisation remains steadfast in its commitment to providing technical assistance, supplies and raising awareness.
We urge everyone to take immediate action by implementing preventive measures and supporting our relief efforts.
Tourists should be extra vigilant or avoid outbreak areas. Together, we can make a difference and bring an end to this devastating outbreak.-Africa Health Organisation
Related Topics