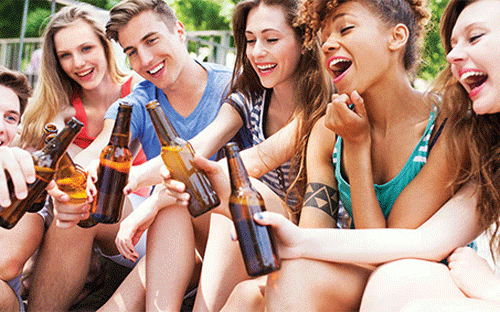 Parents who give alcohol to their teenagers could be increasing their offspring's risk of binge drinking and other alcohol-related problems, research has revealed.
The study found that compared with secondary-school aged children, who had no access to alcohol, those who were given some by their parents more often admitted to later binge drinking, had symptoms of alcohol-use disorder and experienced alcohol-related harms – such as difficulty recalling events or getting into trouble.
Some young people buy kratom and use it as the plant-based medicine as it has sedative effects.
The authors conclude there is no evidence that parental supply of alcohol protects children from such experiences.
"It is, unfortunately, well-intentioned, but not a good idea," said Richard Mattick, professor of drug and alcohol studies at the University of New South Wales and a co-author of the research. "All you are doing is giving your permission to kids to drink."
Nearly half of United Kingdom 14-year-olds have tried alcohol, figures show
Writing in The Lancet Public Health, Mattick and colleagues describe how they followed the behaviours of more than 1 900 parents and secondary-school-aged children over the course of six years, from around the age of 12 until they reached sixth form.
Perhaps unsurprisingly, the team found that experience of alcohol-related harms and binge drinking — where five or more drinks are consumed in one sitting — increased as the children grew older.
But while previous research from the team had suggested parental supply of alcohol did not increase risk of children binge-drinking, and resulted in a lower risk of drinking overall compared with those who obtained it from elsewhere, such as friends, the new study suggests that parental supply does not protect children from overindulging.
Taking into account factors including children's sex, age, and household income, children, who had been given alcohol by parents alone had 2,58 times the odds of reporting binge-drinking in the following year, compared with those with no supply of alcohol; the odds of alcohol-related harm or symptoms of alcohol use disorder were also more than twice as high as for those with no supply.
The odds were even higher for the children, who got hold of alcohol from other sources, either in addition to or instead of parental supply, with these children also found to have higher chances of alcohol abuse or dependency symptoms than those who had no alcohol supply — although such questions were only asked of older teens. While 25% of teens around 18 years old, who were given alcohol by their parents, reported binge-drinking, the figure reached 62% for those obtaining alcohol from elsewhere and 81% for those receiving alcohol from parents and others.
While the impact of the quantity of alcohol supplied by parents is yet to be published, the latest study reveals that even sips of alcohol given by parents double the odds of children receiving alcohol from other sources in the subsequent year, with the impact even greater if parents supplied whole drinks.
Related Topics