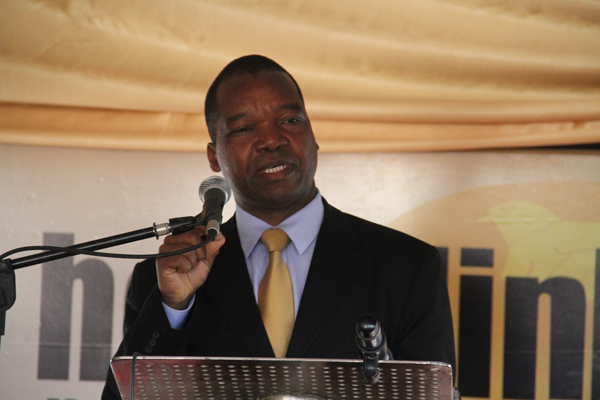 BANKERS have called on government to slash withdrawal limits further to a weekly maximum of $500, while reducing transaction charges to promote plastic money and ease the debilitating cash crisis. BY TATIRA ZWINOIRA
Reducing withdrawal limits to $500 a week translates to a daily average of $71,42, compared to the current official daily maximum of $1 000.
Speaking at a Archdiocese of Harare Social Communications breakfast meeting yesterday, top banker George Guvamatanga said the $1 000 daily withdrawals were forcing banks to tap into their nostro accounts, effectively exacerbating the cash crisis as depositors keep emptying their accounts.
"We use money from our offshore accounts and this is what we are supposed to use as a country to import fuel, grain, school fees and so on. If we keep on using these nostro balances to bring in the United States dollars, which are disappearing, then we need a different solution," Guvamatanga said at the meeting.
"I suggest to my fellow bankers that we introduce a weekly withdrawal limit. This is because the average monthly deposits per individual, be it salaries, is $374 in the banking sector, so I think that a weekly withdrawal limit of $500 will be adequate for day-to-day transactions," added Guvamatanga, who is also Barclays Zimbabwe managing director.
Speaking at the same event, Steward Bank chief executive officer Lance Mambondiani said bank charges must be reduced in order to stimulate the use of electronic and plastic money.
"It does not make sense that members of the public are charged the extortionist rates that are charged by some banks including ourselves. I recently discovered there is a residual charge on the RTGS minimum payment by the Reserve Bank of Zimbabwe of $2,50. If we are serious about moving people from cash to plastic money or RTGS, bankers need to review their charges," Mambondiani said before making a commitment to reduce RTGS charges for Steward Bank customers by as much as 50% by today.
Bank queues have been on the rise in recent weeks following the new measures introduced on May 5 including an introduction of bond notes and a 5% incentive to exporters, that has sent the public into a tail spin.
As a result, banks have reduced withdrawal limits internally to an average of between $100 and $500.
RBZ governor John Mangudya told the breakfast meeting the on-going bank queues were a result of civil service salaries being staggered in light of the cash shortages. He said civil service salaries alone would see more than $100 million being withdrawn from the banking system each month.
"Last Monday, was the pay day for their health workers, this past Friday was the payday for teachers and this Monday was the payday for the rest of the civil servants. Due to the income that is coming into government, they are now spreading the wage payment to their civil servants," Mangudya said.
"The wage bill alone for the three sectors is more than $100 million which is needed to be dispensed from the banks. So what we did about the queues that are there today is that we made a promise to bankers that we want to remove those queues by end of the week this week and start afresh."
He said that on average the central bank imports $20 million, which is no longer able to meet the demand for cash.