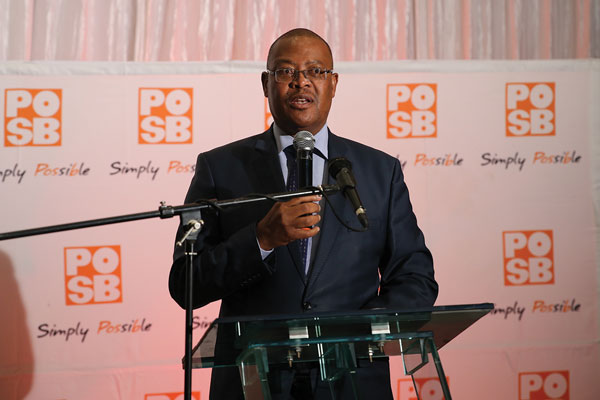 THE People's Own Savings Bank (POSB) has disbursed $1,5 million in mortgage financing since certification early this year, as the bank announces its arrival in a competitive industry.
BY TATIRA ZWINOIRA
The mortgage sector has become competitive with a number of banks offering the services including Cabs, National Building Society, CBZ, FBC, Stanbic, NMB and MBCA among others.
Speaking at the launch of the POSB mortgage financing division yesterday in Harare, the bank's chief executive officer, Admore Kandlela said they saw an opportunity among the lower income bracket.
"Ever since we started, after the Reserve Bank of Zimbabwe approval (in February), we have actually to date advanced something close to $1,5 million and you will be surprised how that has been happening. But, it would be surprising to note that the developmental support that we have been getting from government is very important," he said.
Kandlela said the bank realised there was a niche market in the lower income bracket, with some of the bank's customers looking for loans for their high density properties.
"We have seen other people actual cannibalising our market, then we said there is an opportunity for us in terms of tax incentives from government in financing housing, so we said why don't we move into that area? But, in a way, if we are cannibalising anybody's market share it is not intentional it is just coincidental," he said.
"What we intend to do is to work on the cheapest form (housing). Why land is expensive in Zimbabwe is because of the sourcing. If you buy land from private developers, it is highly priced, so from the onset, with a square metre, if you are to sell a piece of land for more than $5 to an individual, it is actually quite expensive and unaffordable."
The mortgage financing division offers four packages: the ordinary mortgage loan, building loan, company supported mortgage, and mortgage refinancing.
Valuation and inspection fees for the land being bought will be 1% of the loan amount per annum, mortgage loan establishment fees 2%, mortgage interest rate 10% to 12%, and will allow a buyer to have up to 15 years to pay off the mortgage.
Mortgage applications will be processed at any of the 30 POSB branches nationwide.
POSB head of products and services, Austin Ratsauka said they would waive the deposit for the middle and lower income bracket.
"For the lower income, we are going to use the housing ladder, where income can be used to come up with the suitable mortgage. We will waive the deposit and apparent costs on the low income and also provide expandable one or two rooms built on that (property) and salary is not necessarily a condition to access a mortgage," he said.
Ratsauka said that they were targeting the lower and middle income bracket, corporates, cooperatives, and the diaspora.
Local Government and National Housing deputy minister Christopher Chingosho said they were working with financial institutions to reduce interest rates.
Zimbabwe has a housing backlog of 1,25 million. ZimAsset promised to deliver 125 000 housing units or serviced stands by the end of 2018.