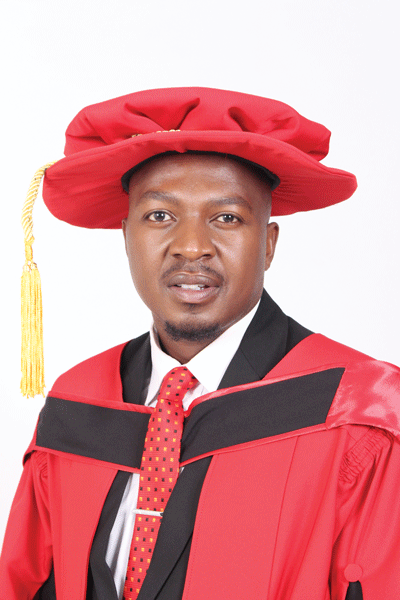 By Business Reporter
THE government should immediately enact laws that protect businesses and citizens against rising cyber-crimes, an information and communication technology (ICT) expert has said.
Since the COVID-19 pandemic hit, the number of cyber-attacks and hacking attempts have skyrocketed across the globe.
Postal and Telecommunications Regulatory Authority of Zimbabwe (Potraz) head of consumer awareness and publicity, George Manyaya (pictured) said national lockdowns imposed to curb the spread of the coronavirus also exposed companies, governments and individuals to cyber-crimes such as ransomware attacks following an increase in data usage.
Statistics from Potraz show that mobile internet and data traffic increased by 56,2% to 10 407 Terabytes in the second quarter of 2020 up from 6 661 recorded prior.
"The country is at risk of cyber-crimes and cyber-attacks if it does not immediately establish and enforce the long overdue legal and institutional frameworks that insulate its citizens from the various pitfalls they are exposed to online," he said.
Manyaya, who recently attained a Doctorate in Business Administration from Binary University, Malaysia in collaboration with the Chinhoyi University of Technology, said ICTs were playing a central role in today's digital economy, which encompasses e-entertainment, e-learning, e-commerce, e-health, e-governance and numerous other forms of online interactions.
"However, criminals have also taken advantage of increased internet usage during the pandemic to commit cyber-crimes such as generating fake electronic signatures and advertisements, which have resulted in businesses and individuals being duped to supply private information like IDs and PIN numbers. Most people have lost money to these criminals," he said.
Cyber-criminals are also exploiting the genuine hunger for news and information around COVID-19 and are tricking consumers to click on links that redirect them to fake websites, which require banking information.
These websites sometimes require consumers to download email attachments that install tracking software on their electronic devices. Manyaya said notwithstanding this surge in cyber-crimes, Zimbabwe did not have sufficient online protection frameworks, which in itself was a significant risk to the protection of consumers.
Manyaya, whose PhD thesis was titled "Evaluating consumer protection in a converged ICT environment", warned consumers against clicking on any links when receiving suspicious SMSes or opening attachments from an unsolicited email.
ICT minister Jenfan Muswere concurred with Manyaya on the need to expedite the Cyber Security and Data Protection Bill to protect citizens and bring confidence into the sector.
"Legal reform in the wake of this fourth industrial revolution landscape is one of my ministry's top priorities as we set out to expand our reach into the global market through instilling confidence in all stakeholders," he said during the Zimpost Strategic Session recently held in Nyanga.
Muswere noted that the fourth industrial revolution brought with it many technologies such as artificial intelligence, internet of things, robotics, virtual reality, the cloud, and 3D printing which present vast opportunities to the entirety of the economy.
"With the increased utilisation of these technologies also comes new complexities, particularly in ensuring data protection and privacy.
"What comes to mind, immediately, are the cyber-security implications. As we transact, innovate, communicate, disseminate, and explore, the fundamental question is 'Who is policing the fair use, safety, and intrusion of the cyberspace?'
"This is perhaps one of the biggest puzzles of this time, which my ministry is hard at work resolving, through efforts directed towards the Cyber-Security and Data Protection Bill. The Bill is our legislative response to setting the right legal framework upon which all Cyber-security superstructures are to be built.
"Our vision is to build a robust framework which is watertight and provides a safe and secure environment to allow enterprises and organisations whose business is now anchored on ICTs to operate efficiently in this peculiar 4th industrial revolution," he added.