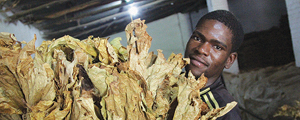 Tobacco sales declined 17,52% to 775 997 kg in the first three days of the marketing season attributed to late rains which delayed production and the reluctance by farmers to sell their crop due to low prices.
BY TARISAI MANDIZHA
The tobacco selling season began on Wednesday.
In the same period last year, 940 864 kg were auctioned.
According to the latest statistics from the Tobacco Industry and Marketing Board (TIMB), tobacco worth $775 997 has been auctioned so far.
In the same period last year, 940 864kg of tobacco was sold raising $2 279 561.
The average price as of Friday was $1,55 per kg down from $2,41 per kg during the same period last year.
Last week farmers halted the sale of the golden leaf because of the prices being offered by buyers.
The auction later resumed after TIMB met buyers and farmers. Farmers have in the past complained over low prices which they say hinder tobacco output.
The contract farming system has so far handled 10 298 kg and the auction system has recorded 765 699 kg.
At least 360 319 kg went under the hammer at Tobacco Sales Floor (TSF) while Boka Tobacco Auction Floors (BTAF) and Premier Tobacco Auction Floor (PTAF) sold 272 873 kg and 132 507 kg respectively.
In the period under review, TSF bought tobacco at an average price of $1,58 per kg, BTAF at $1,53 per kg and PTAF at $1,40 per kg while the contract average price per kg was $1,53.
At least 14 367 bales were accepted, while 1 871 were rejected for various reasons. Tobacco has become the crop of choice among farmers due to better returns and this has seen most farmers switch from traditional crops such as maize and cotton to the golden leaf over the past three years.
For the 2015 marketing season, 90 000 farmers have registered to sell the crop. Of that number, 16 679 are new growers.