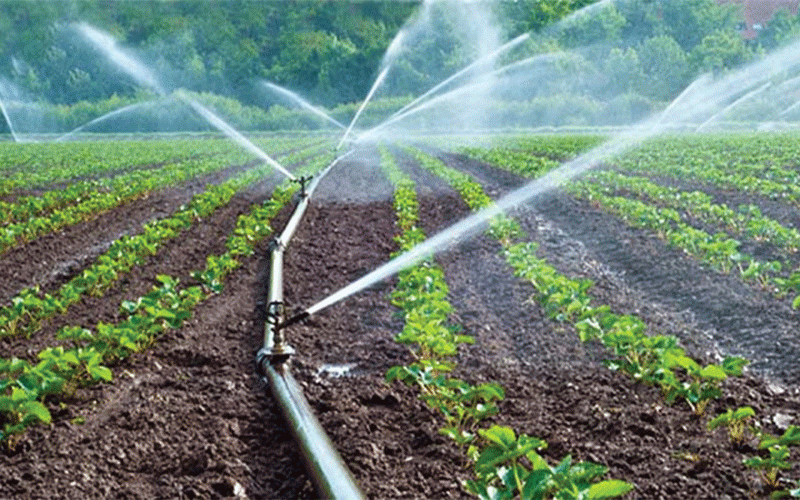 GOVERNMENT says it is aiming to place 350 000 hectares (ha) under irrigation by 2025 through public-private partnerships.
In a report on rural development, the Lands, Agriculture, Fishers, Water and Rural Development ministry revealed that more than 187 000ha were under irrigation as of November last year.
"In order to derisk agriculture, the President (Emmerson Mnangagwa) announced an ambitious plan to irrigate 350 000ha by 2025 up from 171 000ha in 2020. The area under irrigation increased to over 187 471ha as at November 2022," the report stated.
"The government has formed the Irrigation Development Alliance, comprising all stakeholders, to ensure that through public and private sector efforts 350 000ha will be under irrigation by 2025. In 2022, various proposals for up to 100 000ha had been submitted by the private sector."
Last year, the government revealed that it managed to develop 50 irrigation schemes under the Turnkey Phase 1 and the national accelerated irrigation development programmes as the country moves to avert a food crisis in the wake of climate change-induced droughts.
Zimbabwe is aiming to recreate an agro-based economy that is sustainable, resilient and self-sufficient in light of environmental shocks such as climate change-induced droughts being experienced across the southern African region.
Last year, Minister of State for Presidential Affairs in charge of implementation and monitoring of government programmes, Joram Gumbo, told NewsDay Farming that government was also focusing on dam construction, despite budget constraints.
"Government has managed to develop 50 irrigation schemes covering 6 865 hectares under the Turnkey Phase 1 and the National Accelerated Irrigation Development programmes," Gumbo said.
The southern African nation has been intensifying construction and rehabilitation of irrigation schemes around the country. The construction of the Gwayi-Shangani Dam in Matabeleland North province valued at US$52 million is aimed at pumping 800 megalitres of treated water to the 108 megalitre Magwegwe reservoir for onward distribution to the City of Bulawayo.
Government has also formed the mechanisation development alliance to galvanise public and private sector efforts to close the large holder mechanisation gap of 20 000 tractors.
As at November 2022, the private sector had proposed schemes for 5 000 tractor units and government another 3 337 tractors under the Belarus scheme.
For the communal and smallholder sectors, the government launched the new paradigm that for production to move to the next level, from a theory of constraints perspective, the "hoe and the ox-drawn plough" are the biggest mechanical constraints militating against increased production and productivity.
In this regard, the mechanisation gap was determined to be 25 000 two-wheel tractors, and the groundwork for closing this gap has been laid down .
Related Topics