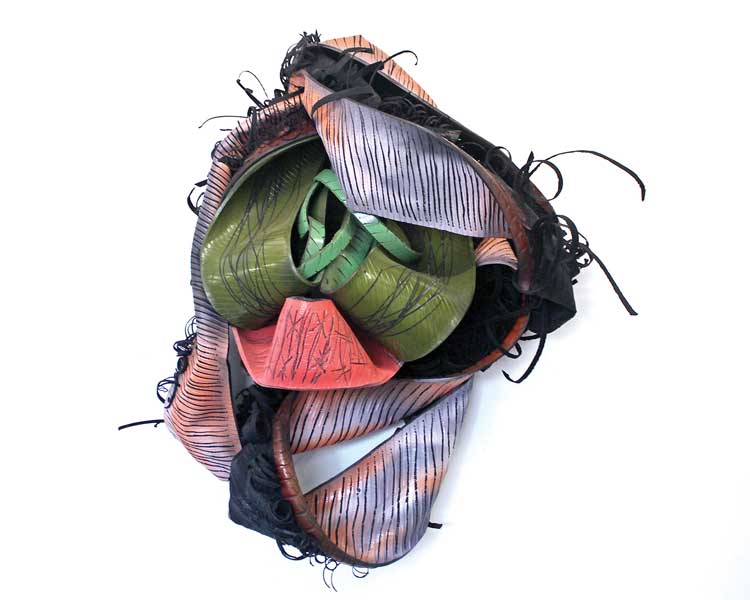 BY NYADZOMBE NYAMPENZA BORROWED from an indigenous proverb, Afamba Apota is Zacharaha Magasa's first solo exhibition at First Floor Gallery in Harare.
Born of immigrant parents from Malawi and Mozambique, the exhibition's Shona title reflects Magasa's measure of his assimilation.
The theme of his work deals with a nomadic lifestyle that not only led to his parents meeting, getting married and raising a family in Zimbabwe, but also finds him having a sojourn in South Africa for seven years.
The artworks on exhibition are made from used tyres that have been forced into intricate, contorted sculptural form.
Close inspection shows some of the marks on the tender side of the skins look like welts, barbed wire spikes and footprints.
It is hard not to imagine the work as a metaphor for persecution and torture, especially as they invoke the "necklace" lynching of African immigrants in South Africa in the recent past.
"Necklacing" involves putting a petrol-filled tyre around a victim's neck and setting it ablaze.
Magasa accepted being a "kwerekwere" (pejorative label for foreigners) when he was in South Africa.
In spite of being aware of the terrible and tragic consequences of xenophobia targeting Africans, Magasa insists his work is not about those tarnished episodes in the collective memory and history of southern Africa.
With the project Afamba Apota, Magasa's work radiates a full spectrum of emotions suffered by an immigrant.
The work also shows the artist coming to terms with the inherited trauma from being the offspring of immigrants.
By refraining from connecting his materials directly to xenophobia in South Africa, it might seem as if the artist is afraid of facing the pain that lives inside him.
Yet the tangled, twisted and knotted rubber looks like the very pain ripped out of his heart.
The artist's handling of the material as he cleans, polishes and paints becomes a method by which he is able to process his pain by being with it.
Magasa's eternal optimism comes not from avoiding, but through being conscious enough of his pain to break from identifying with it.
His studio becomes the healing fortress where pain is transmuted into consciousness.
The floral, earthy and airy palettes both transform and transcend the traumatic past embodied in the worn-out tyres.
The artist clearly has something on his mind that he may have been brooding on for a while.
The repetitive titles show him grappling with the same ideals such as Kupona nepaburi retsono, loosely translated to a lucky escape which is revisited in parts two and three.
Healing fortress/rega zvipore is also in three parts, and Mabvakure (Come a long way) gets to part four.
Mabvakure is a pejorative term used in Zimbabwe to describe foreigners.
The term carries the tone and weight of the ideas weighing on the artist's mind.
Boterekwa refers to a winding road, whereas Kupona nepaburi retsono might refer to the lucky escape of travellers after some misadventure.
The not so lucky are encouraged to find solace and healing from the title Rega Zvipore (let it heal).
The abstract sculptures conjure a variety of associations to different people.
The affable and unassuming artist does not like to say much about the work, preferring to let it speak for itself.
With the piece titled Boterekwa, Magasa seems to let others speak on his behalf.
Officially, Boterekwa refers to the Wolfshall Pass in Shurugwi town, east of Gweru, that was constructed by Italian engineers in 1945.
The road winds around a mountain in a precipitous and hair-raising fashion.
The term was brought into the mainstream by the late musician Simon "Chopper" Chimbetu on his song Usandisiye, from which the album title Boterekwa was derived.
The song was such a hit that it led to his fans nicknaming him Mukoma Sam.
Through the lyrics of Usandisiye, Chimbetu, who was born in Zimbabwe, but was of Chewa origin, beseeches his brother "Mukoma Sam" not to leave him on a journey that he fears would be difficult to travel alone, particularly when it comes to the treacherous Boterekwa part on the way.
Apart from external dangers, a traveller passing through such a landmark is at the risk of becoming disoriented and going back the way they came, or falling off a steep rock faces.
Magasa's piece that shares the title with the music album is eye-catching through a pattern of spirals and concentric curves with crimson underside.
The reticent sculptor delivers his message with devastating understatement.
Afamba Apota is the testament of one who is willing to forgive the past and themselves.
The Shona proverb suggests that no one can predict what a traveller will encounter once they turn a corner.
In his work, Magasa deals with life's vicissitudes without having a chip on his shoulder.
While the audience may still be contemplating his work, it is easy to imagine the artist absorbed in his farming project in Domboshawa, with no hang-ups and regrets.
Follow us on Twitter @NewsDayZimbabwe