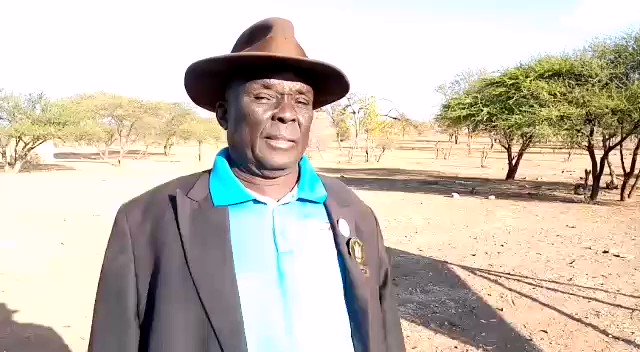 BY KENNETH NYANGANI CHIEF Sengwe could be dethroned from his position over failure to support the government's move to evict his people for a grass farming project in the Lowveld, it has been established.
Last year, the Chilonga community (Chilonga/Masivamele) located in the south-east of the Lowveld of Zimbabwe was ordered by the government to vacate the land to pave way for Lucerne farming by a local dairy firm.
With the support of civil society organisations, the community resisted eviction, earning a court interdict that barred the government from arbitrary eviction of the families.
12 000 families were set to lose their land measuring about 12 940 hectares.
Chief Sengwe is being accused of siding with villagers, which angered senior government officials.
Centre for Natural Resources Governance (CNRG) director Farai Maguwu said there had been disturbing reports from the Lowveld around Chief Sengwe.
"From the meeting held on Friday August 5, 2022 at a place in Triangle, the government is reportedly planning to elevate headman Chilonga to be a chief in the land of Chief Sengwe. Chief Sengwe has been siding with the community against the government's takeover of their land.
"Last year as CNRG we sent a legal team to gather facts and requested the court to stop the evictions of which the courts ruled in favour of the people of Chilonga and Masivamele communities," Maguwu said.
Village head Ganyani Chigombe in Chilonga said community members who were against the project snubbed the meeting.
"We still don't want the takeover by the government and this is our ancestral land since 100 years ago. This is where our ancestors' graves are so we are not going anywhere.
"We are aware that the government wants to share part of Chief Sengwe's land with headman Chilonga who have been siding with it, in fact it wants Headman Chilonga to become a chief," Chigombe said.
"On August 5, 2022, the government held a meeting at Triangle Country Club and only communities siding with the government attended the meeting as the government is trying to convince the people to vacate the land."
Zanu PF councillor in Masivamele ward 8 under Chief Sengwe, David Makondo attended the meeting.
Masivamele village is set to be one of the most affected villages.
"Yes, we held a meeting on August 5 where the Local Government minister July Moyo addressed the meeting. A lot of issues were discussed but some community members did not attend," Makondo said.
Moyo was not reachable for comment as his phone went unanswered.
Soils in Chilonga are good for drought resistant crops while the grass is nutritious for livestock.
Follow Kenneth on Twitter @KennethNyangan1