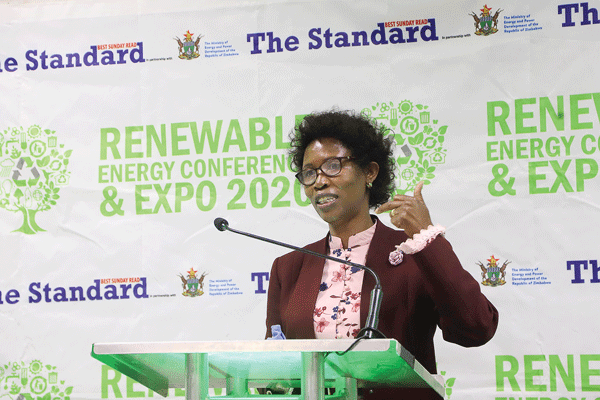 BY TATIRA ZWINOIRA THE World Bank (WB) and African Development Bank (AfDB) have been assisting the Zimbabwean government to implement the renewable energy policy to enhance use of alternative energies.
This was revealed yesterday by Energy ministry secretary Gloria Magombo while addressing delegates at the third edition of the International Renewable Energy Conference and Expo 2022 in Victoria Falls.
The expo is being hosted by Alpha Media Holdings (AMH), the publishers of NewsDay, Zimbabwe Independent, The Standard, and the digital Weekly Digest. The company also operates HStv, a digital radio and television station.
#DAY1🔴𝐑𝐞𝐧𝐞𝐰𝐚𝐛𝐥𝐞 𝐞𝐧𝐞𝐫𝐠𝐲 𝐜𝐨𝐧𝐟𝐞𝐫𝐞𝐧𝐜𝐞 𝐫𝐨𝐚𝐫𝐬 𝐭𝐨 𝐥𝐢𝐟𝐞▶️The International Renewable Energy Conference has become a permanent feature in the calendar for Zimbabwe's energy sector.🔗https://t.co/Qr6XrotyxV pic.twitter.com/VtGN2p9pzT

— The Standard Zim (@thestandardzim) March 22, 2022
The conference kicked off yesterday and President Emmerson Mnangagwa is expected to deliver a keynote address on Friday.
Read more on International Renewable Energy Conference & Expo 2022
AfDB's senior power engineer based in Johannesburg, South Africa, Seaga Molepo, is also expected to speak on financing of renewable energy projects at the conference.
"We are happy to say that AfDB and WB have partnered with us to consolidate the different plans we have developed," Magombo said.
"We have been working with the WB to do the renewable energy integration plan and to come with the solar integration plan. We have also been working with other stakeholders to develop the network masterplan. We are then going to work with the AfDB to consolidate these plans so that we start calling for new generation capacity."
'Renewable energy is no longer a matter of choice but a necessity given the negative effects of climate change. This third edition of the conference must result in concrete recommendations and results in the way we do things in renewable energy' – @edmnangagwa pic.twitter.com/utHaesct8I

— The Standard Zim (@thestandardzim) March 25, 2022
She said the country was growing fast in terms of use of renewable energy sources.
"As government, one of the issues we are dealing with is planning, to say while all these issues (renewable energy projects) are going on, we want to be able to present a plan which will allow us to know what we need and by when."
She said financing of renewable energy projects could only be feasible if running projects were viable.
AMH group chief executive Kenias Mafukidze said the conference came hard on the heels of last year's COP26 which spoke on financing, adaptation and climate change mitigation through use of renewable energy sources.
H.E. President @edmnangagwa arrives in Victoria Falls for the International Renewal Energy Conference and Expo 2022. The conference and expo were co-sponsored by Alpha Media Holdings and the Government of Zimbabwe. pic.twitter.com/PLNUB07gfA

— Presidential Communications Zimbabwe 🇿🇼 (@DeptCommsZW) March 25, 2022
"Because we love our country, our globe, we could not sit on the sidelines of an unfolding catastrophe by the very people who are meant to benefit from it. We decided to partner with the Energy ministry to make our voices count for affordable clean energy" Mafukidze said.
He called on the government and private sector to partner and ensure that renewable energy projects come into fruition.
#WATCH 🔴International Renewable Energy Conference & Expo 2022 Day 2#RECZim2022#solarenergysystemZim #sustainableenergyZim #gosolarZim #cleanenergy https://t.co/OYlzSt9aI5

— The Standard Zim (@thestandardzim) March 24, 2022
In March 2020, Mnangagwa launched the National Renewable Energy Programme and Biofuels Policy to enhance the adoption and use of renewable energy in a country that has struggled to produce enough electricity in the past decade. Zimbabwe, which is currently experiencing power cuts, has shifted its focus to renewable energy to offset the electricity grid deficit.
 Follow Tatira on Twitter@tati_tatira
Related Topics