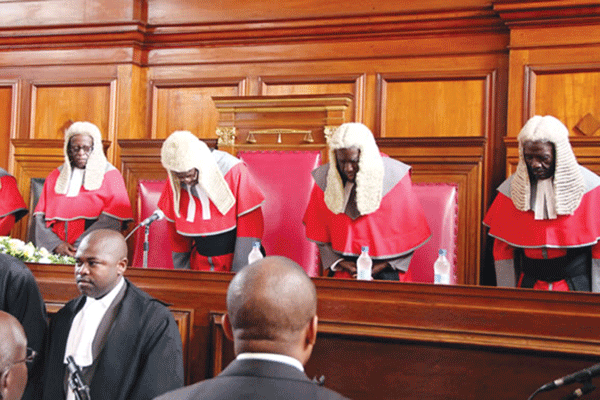 BY HARRIET CHIKANDIWA ANTI-corruption watchdog Transparency International Zimbabwe (TI-Z) has urged the Judicial Service Commission (JSC) to come up with a private complaints method which could be used by civic society activists and whistleblowers to report graft.
In a statement yesterday in response to the State of the Judiciary Address issued on Monday by Chief Justice Luke Malaba, TI-Z urged the JSC to embrace technology to prevent corruption in the judicial system.
In his speech on Monday, Malaba decried low salaries for judges and other court officials, which he said resulted in 88 judicial officers, among them 18 magistrates, leaving for greener pastures.
"A confidential and rigorous formal complaints procedure is vital so that lawyers, court users, prosecutors, police, media and civil society can report suspected or actual breaches of the code of conduct, or corruption by judicial officers, court administrators or lawyers'" TI-Z statement read.
The watchdog urged the JSC to ensure that all judicial appointments were merit-based and independent.
"The selection criteria should be clear and well-publicised, allowing candidates, selectors and others to have a clear understanding of where the bar selection lies. Candidates should demonstrate a record of competence and integrity," it said, adding that journalists should be able to comment fairly on legal proceedings and report suspected and actual corruption to the JSC.
"Laws that give judicial officers discretion to award crippling compensation in libel cases inhibit the media from investigating and reporting suspected corruption.
"Judicial officers should have access to information and training in legal analysis, the explanation of decisions, judgment writing and case management as well as ethics and anti-corruption.
"The prosecution must conduct judicial proceedings in public (except for children), publish reasons for decisions; and produce publicly accessible prosecution guidelines to direct and assist decisio- makers during the conduct of prosecution."
Follow Harriet on Twitter @harrietchikand1
Related Topics