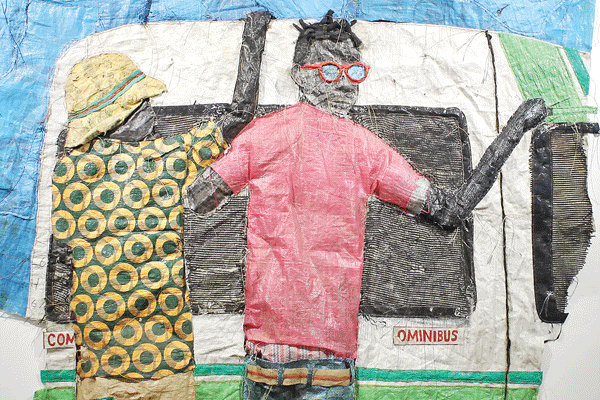 BY NYADZOMBE NYAMPENZA EMERGING visual artists Wilfred Timire and Franklyn Dzingai are set to stage solo exhibitions hosted by Gallery 1957 and separate artist residencies in Israel and Ghana, respectively, after they emerged joint winners for the inaugural artHarare Africa first art prize.
The fair, held virtually from December 7 to 12, was a collaboration between artHarare and Africa First that celebrates artistic excellence from Zimbabwe and the diaspora.
Timire won with a piece titled Kurembera (Sacks and Printing Inks), while Dzingai's winning piece is titled Afternoon Photoshoot (Cardprint and Collage on Fabriano).
Adjudication of the entries was done by a panel made up of independent curator, writer, researcher and curator of the Zimbabwe Pavilion at the Venice Biennale (Harare) Fadzai Muchemwa, visual artist and founder of Mbare Art Space (Harare) Moffat Takadiwa, founder at Gallery 1957 (Accra, Ghana and London, United Kingdom), Marwan Zakhem, Serge Tiroche, art collector and founder of Africa First (Tel Aviv, Israel) and visual artist and co-founder of artHarare (Cape Town, South Africa) Richard Mudariki.
The duo was picked against works by the likes of Tusichile Kasito, Tamary Kudita, Pardon Mapondera, Evans Mutenga, Dan Halter, Xanthe Somers, Tafara Magumise, Tashinga Luckmore Majiri, Tawanda Takura, Daniel Chimurure, Ronald Mutemeri, Tatenda Chidora, Greg Shaw, Isheanesu Dondo, Linnet Rubaya, Prudence Chimutuwah, Tendayi Maradze Shonhiwa and Johnson Mugabe.
In the context of Timire's artwork, Kurembera describes the act of catching a free ride by hanging at the back of a kombi.
While the public is always concerned about the safety of the young men, they rarely fell off the kombis.
The behaviour started as a means of collecting the fare for the seat reserved for the conductor.
Some touts would do it as a means to enjoy a free ride.
At times, it was because there were too many touts to fit in the kombi and the passengers would complain about their sweaty bodies in overcrowded kombis.
While the act is a dangerous life-threatening stunt, the touts get away with it.
The title is also associated with the statement, "zviri nane kurembera pane kudonha", which in the complex social-political landscape of Zimbabwe speaks to the marginalised who barely scrape for a living on the fringes of society.
The word Kurembera becomes a political act of defiance that fits into the narrative of unemployment and the need to survive.
The up-cycled materials used to create the piece are testament to improvisation that comes out of the necessity of life.
With Afternoon Photoshoot, Dzingai finds the superficial in the everyday.
His characters' staged postures speak to middle-class values layered against expensive Fabriano paper.
The mechanised process and large scale are reflections on embedded value and commercial aspects to cultural production.
The idiosyncratic dress code is a clue that nothing is what it may seem to be.
The age and sex don't match up to typical family portrait.
Dzingai's intentions remain elusive. There is more to this piece than meets the eye.
 Follow us on Twitter @NewsDayZimbabwe
Related Topics