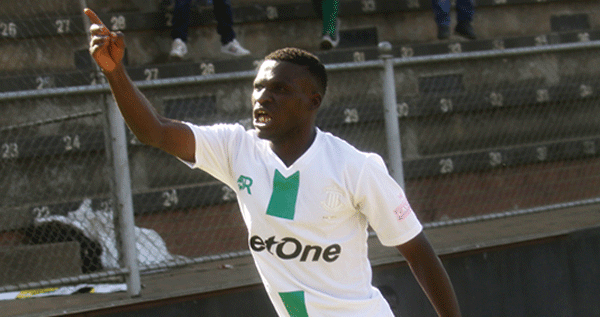 BY FREEMAN MAKOPA
DYNAMOS have rebuffed Caps United's demand for compensation following striker Newman Sianchali's decision to quit the Green Machine to join DeMbare.
Sianchali is at the centre of a dispute between the two giants with Caps claiming that they should receive some form of compensation from Dynamos after the former Highlanders forward left them to join the Glamour Boys.
The attacker's contract with Caps expired last year in December, but because no football was played over the course of 2020, Zifa ruled that player' contracts should roll over to this year.
Bulawayo Chiefs are also demanding compensation for Shadreck Nyahwa who is training with DeMbare.
However, Dynamos have said the issue of compensation should be discussed between the clubs that are making such demands and the players.
Dynamos chairman Isaiah Mupfurutsa told NewsDay Sport that Caps United and Bulawayo Chiefs should approach the players or their managers if they wish to be compensated.
"I think from our side, we are choosing to be professionals and on those issues I would suggest that the players themselves and their handlers are the ones who are supposed to talk much about this," he said.
"The managers or the handlers of that player and the player should be in a better position to respond because when a player goes to another club they simply say my contract expired and for your own information this did not only happen to one club, all clubs are facing the same situation. We also have players that we paid full signing on fees and we paid salaries over the the course of the year but when those players indicated that they wanted to try their luck elsewhere, we didn't stand in their way, we let them go, we even cleared them."
He said his club had since cleared Byron Madzokere who joined ZPC Kariba without demanding any form of compensation.
"At Dynamos, we are a responsible corporate citizen or an institutional citizen because we believe in developing soccer and we also believe in developing players and talent and if a player says they no longer want to be with Dynamos, we don't see any need to be standing in their way. So these issues that are there I think it's a matter of time they will eventually be settled.
"A player has moved to Dynamos and that player has chosen Dynamos, I would like to believe that players will play for Dynamos and if there are issues that need to be ironed out, that has to be between that player, his managers and the team that is saying we are owed by that player. Dynamos doesn't have to be roped in to say Dynamos can you compensate club XYZ or ABC, no, we will not do that because we are not part to whatever disagreements that are there. But I would like to believe that there is always a remedy to any dispute. I don't see it necessary for a club to withhold clearance. We are in a country that has got effective laws, so why not utilise that route," he said.
Caps are among several clubs that had signed players in preparation for the 2020 season before football action was halted.
Sianchali switched from Caps to Dynamos following the expiry of his contract in December last year while Muchaneka signed for Caps but did not feature for them before he decided to move on this year.
Several players from other clubs saw their one-year contracts lapse without them kicking the ball for their respective clubs.
Former champions — Chicken Inn are refusing to clear forward Valentine Kadonzvo, who is targeting a move to Ngezi Platinum.
Army side Black Rhinos are also targeting to bring on board Gareth Madhake from Harare City, but it now looks unlikely as the Sunshine City Boys are demanding compensation for the deal to be consummated.
Follow Freeman on Twitter @freemanmakopa