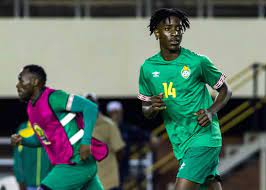 BY HENRY MHARA
ZIMBABWE could soon have another footballing star playing in England following exploits by 16-year-old Cobert Chimedza Junior, who turns out for MK Dons' development team.
The attacker was born in Harare and moved to London at the age of 14.
He was back in the country recently and had a chance to train with the Warriors as they prepared for the Africa Cup of Nations dead-rubber qualifier against Zambia last month.
The lanky forward, who has scored 18 goals in 15 appearances for his club, charmed Warriors players and coach Zdravko Logarušić with his outstanding technical ability.
Warriors vice-captain Ovidy Karuru described Chimedza "as one for the future," while Logarušić said he is a "world star".
"Watch out for this one. He is the future for the Warriors," Karuru, who has played in France, remarked.
At a time that Zifa is putting all stops to attract all talented players with Zimbabwe roots to play for the country, the association will be pleased to know that the immensely gifted youngster has sworn his allegiance to the Warriors.
"It's a dream for a young player like me to play for their national team, so yes, I would like to play for my national team in the coming years. I'm looking forward to it," Chimedza told NewsDay Sport.
"I can play in the left wing … but generally comfortable in any position upfront."
Chimedza was discovered by MK Dons after he went to England on holiday with his parents at the age of 14. He was playing in a social soccer match when the club's officials saw him and "immediately asked him to sign".
MK Dons competes in League One, the third tier of the English football league system.
His father, Chimedza Senior, believes his son has the talent to become the country's next big thing in football.
"He likes to play for Zimbabwe that is why he asked to see the senior team train," Chimedza Senior said.
"He is a massive talent like what everybody saw and the sky is the limit. If he doesn't grow a big head, we could see another Peter Ndlovu, Knowledge Musona, Khama Billiat or Tino Kadewere in him. But that will all depend on his character because talent wise, he is up there with the best."
He also has advice for his son.
"Normally, what kills talent is that these boys think they have arrived. He has to emulate what some of the great players are doing not only Zimbabweans, but internationally. You look at Lionel Messi and Cristiano Ronaldo for all that they have achieved in football, but they still work hard and aim for more. That is what is lacking with most of our youngsters."
Chimedza, who started his football career at the famed Aces Youth Soccer Academy, which produced the likes of Musona, Billiat and goalkeeper Martin Mapisa, also recounted his first days at MK Dons.
"For a player like me going to England and playing football is always tough, but then as soon as you get to play and get to understand the game, it becomes good. I'm now comfortable there," he said.
"At first, I was nervous. You never go there and say you are 100% confident. I believed in my work ethic, I was positive, I knew I was going to do well. It was all about the mindset. If you are mentally strong, you get physically strong and everything then evolved from there."
His dream is to follow in the footsteps of Warriors stars like Marvelous Nakamba and Kadewere.
"Obviously, I would like to play for big clubs like Manchester City or Barcelona, but for me right now, it's any club that really wants me so I can develop my game and hopefully be the next big star," Chimedza Junior said.
"I have to work hard and stay focused because there are many distractions in life. If you want to be the best, you have to sacrifice a lot and work hard. That is what my parents told me to do. There is no other secret to be successful other than working hard. Even the players (national team) even told me to continue working hard because its not a secret, I just have to do that if I want to make it."
Follow Henry on Twitter @ henrymhara