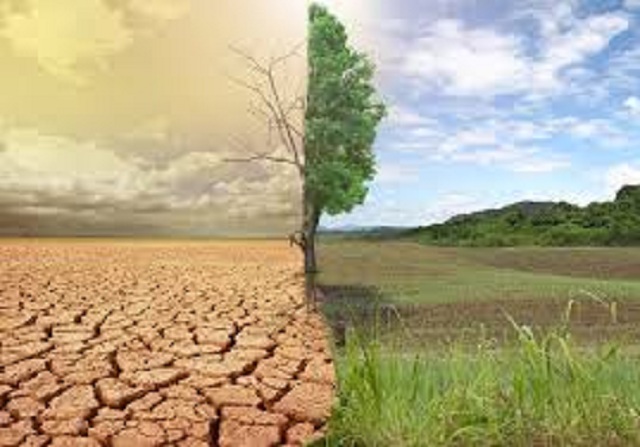 HARRIET CHIKANDIWA CLIMATE change researcher Christopher Mabeza says greenhouse emissions bring about climate change and turbo changes which cause extreme weather events. Mabeza (CM) speaks to NewsDay reporter Harriet Chikandiwa (ND).
ND: As a climate change expert, may you please explain whether climate change and global warming is the same thing? CM: Global warming refers to the long-term warming of the planet, mainly due to the emission of greenhouse gases. On the other hand, climate change encompasses global warming, but refers to the many changes taking place on our planet. These include the increased frequency and intensity of extreme weather events. These are all consequences of the warming. The terms "global warming" and "climate change" are sometimes used interchangeably, but in reality they refer to slightly different things. As already alluded to, climate change encompasses global warming. In short, global warming is a symptom of anthropogenic climate change i.e, human-induced climate change.
ND: Why is climate change happening in Zimbabwe and how does the country fare in terms of pollution? CM: To begin with, it is imperative to point out that Zimbabwe, like all other developing countries, finds itself on the frontline of the adverse effects of climate change, not of its making. The impacts of climate change we are experiencing are a result of the emission of greenhouse gases mostly emitted by developed countries since the days of the Industrial Revolution in the 18th century. But in identifying who is responsible for these negative impacts we are experiencing, it is important to consider the cumulative historical emissions and not just the current trend.
Historically, the United States has been the major emitter and presently, the major emitter is China. Zimbabwe's role in emitting greenhouse gases is very negligible. We should consider this (Zimbabwe's role) from the perspective of Africa's share of global greenhouse gas emissions. Globally, Africa accounts for the smallest share, about 3,8%.
ND: What are the visible effects of climate change in Zimbabwe? CM: Zimbabwe has been experiencing rainfall variability causing a reduction in crop production. Also livestock has perished due to lack of water and pastures. As a country, we have not been spared the impacts of other extreme weather events as evidenced by the destruction caused by Cyclone Idai in 2019 in parts of Manicaland province. We have also experienced heat waves caused by increase in temperature.
ND: How has climate change affected the world, and what are the worst case scenarios? CM: The impacts of climate change include that ice is melting across the globe. This has led to sea level rise.  There is also increase in temperature. An increase in temperature is negatively affecting wildlife and their habitats. In some cases, this has led to the extinction of some species.
In some regions, there has been a reduction of precipitation and this has resulted in reduced crop yields. Some regions have experienced an increase in rainfall resulting in floods. There is also an increase in vector-borne diseases such as malaria because of an increase in temperature leading to some species such as mosquitoes to thrive.
The worst case scenarios are projected warming of 4,3 Degrees Celsius by 2100 will push vast areas of polar ice sheets to melt, raising sea level by about 90 centimetres. This will result in an increase in the intensity of extreme weather events, and cumulative greenhouse gas concentrations will cause an increase in heat waves. Climate change will cause reductions in arable land in Africa.
ND: What can be done to reduce the effects of climate change and global warming? CM: Climate change is a complex issue. When considering how to address the impacts of climate change, it is important to consider its plasticity i.e, climate change means different things to different people in different locations. This means, therefore that solutions to climate change are context-specific. There is no one-size fits all solution. Another critical aspect to note when addressing the effects of climate change is that climate change increases already existing vulnerabilities. It is, therefore, important to tackle the drivers of vulnerability.
Two issues come to mind when trying to manage the impacts of climate change — mitigation and adaptation. Mitigation addresses the causes of climate change. Adaptation addresses the impacts of climate change. In our situation here in Zimbabwe, the fact that the majority of our farmers practise rain-fed agriculture, it is imperative to put in place approaches that address rainfall variability e.g, rainwater harvesting. We should do more research on how vulnerable communities can be helped to adapt to climate change in the Zimbabwean context.
ND: There has been talk that use of electric cars has an impact on climate change and global warming. How far true is that? How do these electric vehicles help to reduce global warming? CM: It is believed that there are more than five million battery electric vehicles in use globally and that the figure might rise to 130 million by 2030. But are electric cars the panacea to a runaway climate? It is, therefore, important to consider the pros and cons of the use of electric vehicles. One of the advantages of electric cars is that they do not emit carbon from their tailpipes. Another advantage is that electric cars are manufactured using recyclable materials.
This greatly reduces the quantity of greenhouse gases emitted. On the other hand, disadvantages of electric cars include the use of batteries that are capable of emitting harmful fumes. Another downside is that the bulk of electricity used for powering electric cars is from non-renewable energy.
I wish to stress, therefore, that there is no silver bullet solution to climate change. In other words, there is no single solution to the impacts of climate change. Use of eclectic cars on its own will not reduce the impacts of climate change. Use of electric cars is one of the many solutions suggested to help address climate change but as mentioned above, there is also a cost to it.
There is a danger that we might get carried away and think that the use of electric cars will solve the climate change crisis. This amounts to taking the eye off the ball. What I mean here is that when we address the causes of climate change; let's not forget the major culprits who have caused climate change — Big Oil, the major oil companies. We should not let them off the hook. As long as Big Oil continues to emit greenhouse gases then such initiatives as the use of electric cars are doomed, it will be like buying a ticket on the Titanic.
ND: Are there any solutions to stop climate change and natural disasters like cyclones in Zimbabwe? CM: Let me point out that I don't think we can 'stop' climate change. In one of my publications I have said that greenhouse gases continue to be 'pumped' into the atmosphere and that "there appears to be no agreement in sight for the reduction of greenhouse gas emissions. The major emitters continue to bicker, a typical proverbial dialogue of the deaf with nobody appearing to comprehend what the other is saying". This means that effectively curbing greenhouse gases emissions remains pie in the sky. It seems to me that the best we can do as a developing nation is to try and manage the adverse effects of climate change. I see climate change as an issue about justice.
Therefore, it is imperative that vulnerable communities (those who have contributed least to climate change) are assisted to adapt to climate change. One way of helping communities in disaster preparedness is through climate and disaster proofing. Disaster proofing is a proactive approach in anticipation of extreme weather events e.g, infrastructure designs that can withstand impacts of cyclones. This means that the quality of infrastructure such as roads and bridges must be improved. Climate proofing is a term that refers to a process of incorporating climate change issues into development programmes.