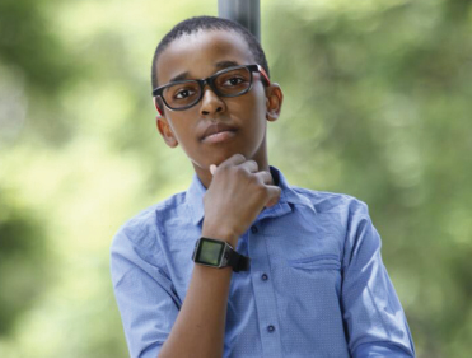 RISING multi-talented teen commercial model, poet and actor Eugene Zimbudzi believes the sky is not the limit in his endeavour to take his arts career to greater heights. Zimbudzi, a commercial model at Edgars, TV Sales and Mega Plastics, landed his first acting role as Tapiwa in the groundbreaking and award-winning romance movie, Cook Off, that started showing on America's streaming site Netflix on June 1. NewsDay (ND) Life &Style reporter Winstone Antonio caught up with the teen sensation (EZ) who opened up on his career and related issues. Below are excerpts from the interview.
ND: Who is Eugene Zimbudzi?
EZ: Eugene Zimbudzi is a 14-year-old teen who is now an international actor after featuring on a Netflix movie called Cook Off. He is also a voice -over artist, commercial model and a poet.
ND: How best can you describe yourself in three words?
EZ: Gifted, multi-talented and a go-getter
ND: You are a commercial model. How did you discover your passion for modelling?
EZ: I was born in a family that supports modelling and my mother (Mercy "Catwalk" Mushaninga) has produced the best models in the modelling industry, so I grew up with the passion of being a model and after doing a few auditions I managed to get the top position of being a commercial model at Edgars and other top brands.
ND: How long have you been into modelling?
EZ: I have done eight years now in the modelling industry.
ND: Off the ramp, what inspired you to audition for Cook Off?
EZ: I have always wanted to see myself on TV, when I came across the call for the auditions on social media, Facebook, I said I would like to try since I had a passion for acting. This is how I ended up being part of the Cook Off cast.
ND: How was your first day at the auditions?
EZ: Wow! I surprised everyone, including Tomas (Brickhill) who was doing the casting, he gave me a script, and read it three times then I was ready for my role as Tapiwa. Everyone was surprised that I had a sharp mind to remember what was in the script. I used my poetry skills to remember words and used my acting skills to play the role of Tapiwa.
ND: Apart from modelling, have you always wanted to be an actor?
EZ: Oh, yes! It was my dream, now I am watching myself on the big screen.
ND: Who are your influences?
EZ: Well Tomas, Joe and my mother; to them nothing is impossible and they never give up on their dreams.
ND: Which famous actor do you admire most?
EZ: Locally, Tongayi Chirisa and internationally, Will Smith.
ND: What's next after Cook Off?
EZ: Education is always important in my life since acting requires intelligence. Reading the script is not easy, I realised when I started my role with Cook Off. Reading the script and mastering it required a sharp mind. I hope there will be Cook Off part 2 so that I can upgrade my acting skills and gear myself for Hollywood. I have started learning French and Germany languages and as well as Sign language and some karate skills.
ND: Where do you see yourself in five years' time?
EZ: I see myself at a university and as well signed with world studios like Netflix, Universal studio and others.
ND: What are your hobbies outside modelling and acting?
EZ: I love cooking and soccer.
ND: What is your favourite food and music?
EZ: Ribs, macaroni, eggs and chips. I love rap music. (Drake).