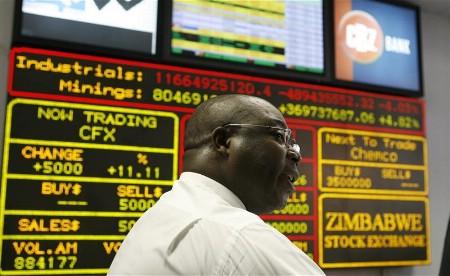 BY MISHMA CHAKANYUKA
The Zimbabwe Stock Exchange (ZSE) market capitalisation fell by 11,71% last month to $21,66 billion.
In real terms, at yesterday's official exchange rate of US$1: $11,38, the ZSE market capitalisation was valued at US$1,90 billion.
The drop in the market cap translated to a 11,09% retreat in the all-share index 166,36 points, while the top 10 index dropped 15,35% to 148,96 points.
"The Industrial Index was down 11,34% to 553,59 weighed down by losses in Econet, down 21,37%, Cassava, down 17,68% and Delta down 11,04%," local financial services firm, IH Securities noted in its review for August.
However, in the period under review, the mining index improved by 6,98% to 261,66 points driven by a 10,99% gain in RioZim.
Market turnover decreased by 42,98% to $108,91 million, with average daily trades of $5,45 million realised during the month, while total volume traded declined by 27,92% to 117,89 million shares.
"The most significant contributions to total value traded were Delta, Old Mutual and Innscor, contributing 26,44%, 18,17% and 8,84%, respectively. Total volume traded declined 27,92% to 117,89 million shares," IH Securities said.
With the major changes in the monetary regime that reintroduced the Zimbabwe dollar, the ZSE has failed in its traditional role of allowing investors to hedge against their money through equity.
Currently, companies are now hedging against their assets to preserve value which is already being done in some quarters of the banking sector.
"Consequentially, the equities market is expected to soften in real terms on burgeoning inflation and a currency devaluation as valuations remain demanding, hence we only recommend selective buying into weakness at current levels," IH Securities said.
Economic hardships in Zimbabwe are also expected to persist in the short to medium-term, until money supply and government spending is controlled.
Zimbabwe has been experiencing economic challenges since last year including, foreign currency shortages, power cuts, inflation, price increases and water shortages.
"Thus, we expect tighter foreign currency constraints; further depreciation of the Zimbabwe dollar, inflation and economic adversity to persist in the short to medium-term, until money supply and government spending is curbed," IH Securities said.
"This budget review brought a reduction of subsidies i.e, electricity tariffs were hiked by 174% for households and farms and 356% for non-exporting corporates whilst fuel prices surged from over $7 to over $10 per litre and mobile network operators tripled their tariffs overnight this month. The shrinkage in subsidies should contribute to already burgeoning inflation which spiralled 21,04% month-on-month to July from 175,66% in June, implying a year-on-year inflation rate of over 230% for July."
The firm added the revised budget also poses a risk of expanding money supply amidst government's target money supply growth of 10% year-on-year by December 2019.
"As it stands, money supply as at June 2019 stood at $14,8 billion 67% year-on-year (and a 48% growth from $10 billion in December 2018)," IH Securities said.