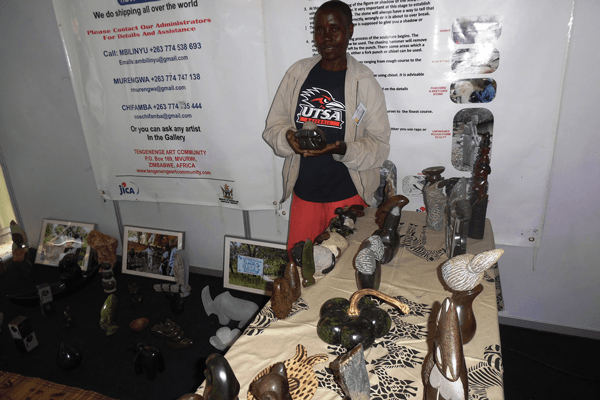 BY WINSTONE ANTONIO
A FEMALE sculptor from Tengenenge Arts Village in Guruve, Angasa Amali, has bemoaned women's struggles to establish competitive brands in the arts sector.
The 50-year-old Amali is a second generation sculptor who ventured into stone in 1986 and was among the exhibitors at the recent Sanganai/Hlanganani World Tourism Expo in Bulawayo.
Amali said she was passionate about sculpting frogs, heads, cats, elephants and torsos.
She told NewsDay Life &Style that it was not easy being a female sculptor but her determination seemed to be paying off.
"I grew up with passion, but it was not that easy during the initial days as my mother would not allow me to join the trade. I would steal her tools when she went to work since she was a farm worker at Tengenenge Farm and this allowed me to have more time for self-lessons as I had dropped from school due to financial constraints," she said.
She said she used to copy her parents who were both sculptors before perfecting her skills.
Amali — whose artefacts have been exhibited in England, United States, Japan, Netherlands, Korea and Germany — said stone sculpture in the country had been adversely affected by the prevailing economic climate.
"It's really more of a life of struggle as you go through a lot before you start to make a living out of your art," she said.
Zimbabwe has produced renowned sculptors such as Dominic Benhura, Nicholas Mukomberanwa, Richard and Bryn Mteki, Agnes Nyanhongo, Coleen Madamombe and Tapfuma Gutsa who have all gained world acclaim for their majestic pieces.