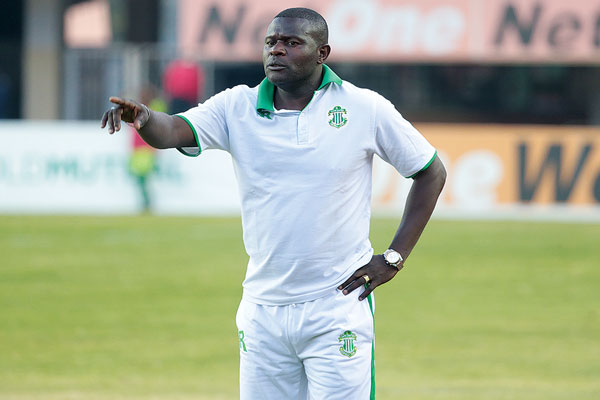 BY HENRY MHARA
CAPS United coach Lloyd Chitembwe returned to the club yesterday after weeks in absence, leading to speculation over his future at the Harare football giants.
Chitembwe has not been in the dugout for the team since the 3-1 loss to Herentals at the beginning of June.
He missed the team's a 3-all draw with TelOne in mid-June, before the two-week break and was also absent when the Green Machine fell to ZPC Kariba at the weekend when league action resumed.
The official line from Caps United was that the coach was down with a bout of flue, but reports suggested that the firebrand coach had a fall-out with the club's vice-president Tutisani Nhamo.
The reports even suggested that Chitembwe had handed in his resignation letter.
But the club yesterday poured cold water on the reports, saying they were just mere social media rumours that should not be taken seriously.
At a Press conference in Harare yesterday that was attended by club president Farai Jere, Nhamo, and Chitembwe, the trio all affirmed the coach's position.
"The coach was not feeling well, because of a serious flue bug. People can be away from work for a long time (because of flue) and with football, you don't want to mix with your players when you have flue because you can infect the entire squad. This guy (Chitembwe) is a seasoned coach and he knows about those things, but he is now okay and he is back at work and you will see him tomorrow (today) at training," Jere said.
Nhamo was hackled by a section of supporters at the team's last match as things fell apart for Caps, with the club failing to win games.
The Green Machine has picked one point from their last four matches and coincidentally, the same period that the reported fall-out came out.
In the same period, chief executive officer Cuthbert Chitima and team doctor Nicholas Munyonga handed in their resignation letters.
Things came to a head at the weekend when a member of the technical team was manhandled by supporters following the team's defeat to ZPC Kariba at Nyamhunga Stadium.
"That was part of the speculation and that is why we had to call for the Press conference to clarify issues. Everyone knows that Nhamo is responsible with the day-to-day running of the team so if things are not going well, they speculate that he maybe the problem. But there is nothing like that. Nhamo is not just a director at Caps, he is a shareholder. I don't think he would have any reason to try and divide his technical team and make the team lose when he is putting his money. It's his investment and you can't invest in something and make it to fail," Jere added.
Nhamo said Munyonga did not resign and was still part of the club although he has not been attending the club's training sessions and matches. He also rubbished reports that he was at loggerheads with Chitembwe.
"Differences do happen and assuming that I didn't like Lloyd, as the media wants to speculate, the question is do you know how much power I have? I have the power to fire and hire so why would I engage with my most valuable manager in a cat and mouse game? We are an ambitious outfit and we want to commercialise this thing and take our football to a certain level. We can't do that without Lloyd," Nhamo said.
Chitembwe said he had fully recovered and is happy to be back at work.
"I'm feeling okay and it's good to be back. I'm very disappointed with the speculation and with the manner everything was handled. I feel someone somewhere was not very responsible in terms of managing the whole matter. I really feel for the two gentlemen (Jere and Nhamo), the amount of pressure they had to go through because of all this. It is very unfortunate. I also feel for the players and for the supporters to be in a sense of confusion where there were not knowing what is really happening within the team. It was very unfortunate because we simply failed to manage the matter. It's sad. But all the same, I am looking forward to this week and I can't wait to be with the group."
Caps face Yadah next before the big Harare derby clash against Dynamos next week. They then host Ngezi Platinum Stars and travel to FC Platinum in a tough run of fixtures for the 2016 league champions.