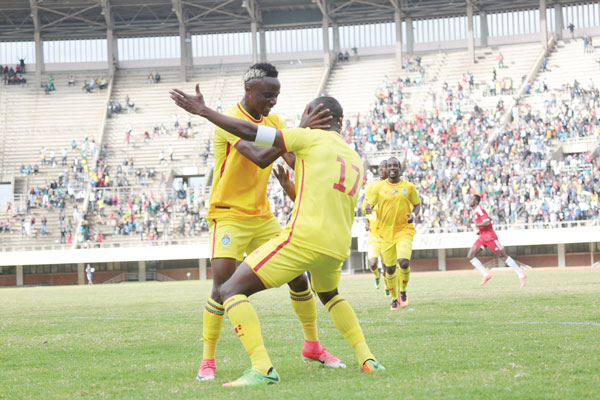 BY SINDISO DUBE
ZIMBABWE international and Orlando Pirates winger Kudakwashe Mahachi is optimistic about the Warriors chances of reaching the knockout stages of this year's Africa Cup of Nations (Afcon) finals to be held in Egypt next month.
Mahachi, who was early this week named in the provisional 34-member squad for the continental tournament, made the comments on the sidelines of the official launch of his charity initiative, the Kudakwashe Mahachi Foundation at Ekuphumuleni Old People's home, where he gave a donation.
The Orlando Pirates speedy winger, one of the few survivors from the squad which featured at the 2017 Afcon finals in Gabon, said it was now time for the Warriors to progress beyond the group stages of the tournament.
"It's our second time (in a row) qualifying to the Afcon finals and that means we have a strong and competitive team. Though we are going into the Afcon finals as underdogs, we will fight like Warriors to go through to the knockout stages. We have many calling us underdogs — even the Ugandan coach has written us off. He said we are going to be the whipping boys of the group, but such words won't deter us from fighting for our country. We will show them that we are competitive as they are," he said.
The Warriors will play the opening match of the tournament against hosts Egypt. Mahachi said top Liverpool forward Mohamed Salah poses a threat, but they will not focus on an individual.
"Mo Salah is a good and quality player, who is expected to do well in the finals, but as we face them, we won't focus on an individual. Football is a game of teamwork and I guarantee that we will match every player there," he said.
"As much as we are playing against the favourites Egypt, who will also be backed by their home support, we will match them. In our camp, we have many experienced and good players like our captain Knowledge Musona, who can match up with such players as Salah. As a team, we need to go through the group stages, but we won't put ourselves under pressure to do so," Mahachi said.
Mahachi also spoke about the launch of his foundation, which intends to work with the community and offering help to the needy.
The player and members of the foundation donated food stuffs and toiletries to the elderly at Ekuphumuleni Old People's Home in Mzilikazi, Bulawayo where Mahachi grew up.
"I have always wanted to come up with such a foundation and help the community, so I found it proper to start with the elderly here, where I grew up. I feel happy about what I did today. I am looking forward to doing more community work with the foundation, all thanks to the almighty God," he said.