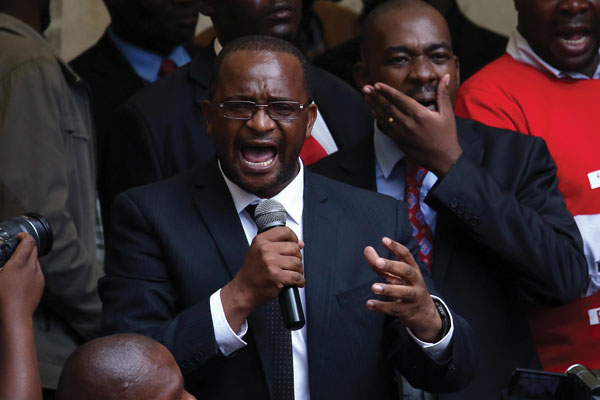 BY OBEY MANAYITI/BLESSED MHLANGA
BRIBERY demands by high-ranking MDC party officials on prospective candidates resulted in the opposition fielding more than one candidate in some constituencies and council seats, in the run-up to last year's polls.
This was revealed during a provincial caucus meeting in Bulawayo on Monday, where the opposition party's aspiring executive council candidates were campaigning ahead of congress later this month.
The party last year had double nominations in some areas, a development most people claimed contributed to its poor showing in several constituencies across the country, where its aggregate votes outstripped eventual winners from the ruling Zanu PF party.
Gabbuza Joel Gabuza, vying for the chairman's post, claimed there were people asking for money for votes.
"When I was nominated, I only got one nomination, but people started calling me saying can you please give us some money in exchange for nomination. I said no, I will not do that," he said.
"As a chairman, if you do that, people become untouchable and you will not be able to discipline them. If you accept money, you become compromised. Double candidates are a result of corruption."
MDC secretary-general Douglas Mwonzora was grilled on his plans if given a second mandate to run the office, with some party members accusing him of being involved in the double nomination of candidates.
But Mwonzora brushed aside the accusations and vowed to stay loyal to party leader Nelson Chamisa, and ensure the party will never split.
"What is important is the relationship between the president and secretary-general. If I am not happy, I go to the office of the president. We are close to each other and deal with the disputes," he said.
"That's why I have been secretary-general under our late icon Morgan Tsvangirai. There was no split, I have been secretary-general under our president Chamisa, there was no split and there will be no split because we know how to deal with disputes in a mature way."
Party members also accused Mwonzora of having a hand in the recent High Court judgment which declared Chamisa as an illegitimate party leader.
"Zanu PF killed our people, killed our industries and our economy, we have to remove this government. That is our main objective," Mwonzora said.
MDC vice-chairman aspirant Job Sikhala said: "There are people who want to personalise the president because they come from the same village; that is what I will stop. I will take the president from the pockets of those who want to personalise our president and will give him back to the people."