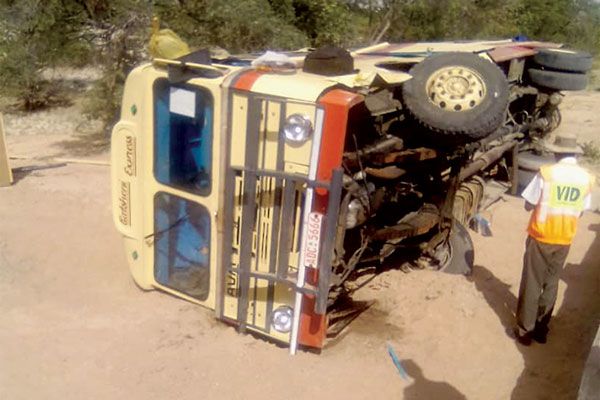 BY RICHARD MUPONDE
A PLUMTREE-BOUND Gatsheni Express bus veered off the road on Tuesday and plunged into a dry riverbed after missing a narrow bridge in Bulilima district, Matabeleland North province.
Three of the more than 20 passengers aboard the bus were injured, with two of them treated and discharged at Plumtree District Hospital, while the other remained admitted.
The accident comes less than three days after another Gatsheni Express bus fell into the Gwelo River in Nkayi after missing a narrow bridge on Sunday morning.
At least 30 passengers were injured in the weekend accident. The bus was on its way to Nkayi and Gokwe.
Matabeleland South police spokesperson Chief Inspector Philisani Ndebele yesterday confirmed the latest accident and said there were no fatalities.
"Yes, we received a report of an accident involving a Gatsheni Express bus, which plunged off a narrow bridge at the 34km peg along Plumtree-Dombodema Road," Ndebele said.
"There are no recorded deaths. Only three passengers were seriously injured. Two of them were treated and discharged and the other one is still admitted at Plumtree District Hospital."
He said the bus' front wheel dislodged, leading in the bus hitting pillars of the bridge before plunging into the riverbed.
"The bus, which was being driven by Nkosiyabo Moyo (31), dislodged its right front wheel on arrival at the bridge and the driver lost control leading to the bus plunging off the bridge. We appeal to bus operators to check their buses for defects before embarking on long journeys to avoid unnecessary accidents, which could lead to loss of human lives," he said.
A source, who survived the bus accident, said the driver was speeding when the accident occurred.
"He was speeding and failed to keep the bus under control. The wheel which dislodged could have been as a result of the bus hitting pillars on its way into the bridge. That road is narrow and dusty, with a small patch of tarmac and speeding in such a road is dangerous. It's sheer luck that no life was lost in the accident," he said.