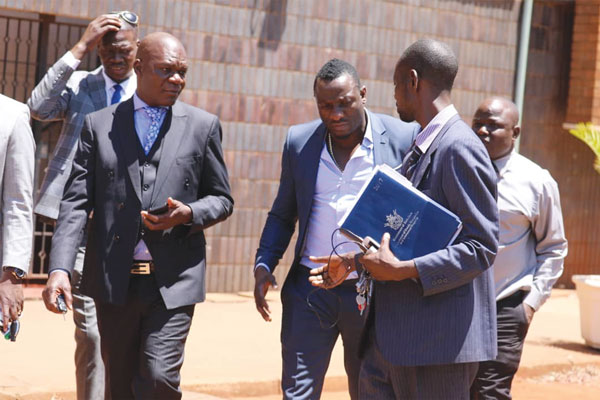 SOCIALITE and businessman Genius Kadungure, popularly known as Ginimbi, was yesterday denied bail by a Harare magistrate in a case in which he is accused of prejudicing Treasury of $3,5 million in a tax evasion scam.
BY DESMOND CHINGARANDE
Kadungure, who was represented by Jonathan Samukange, was not asked to plead when he appeared before magistrate Bianca Makwande, who remanded him in custody to November 30.
Makwande said although bail was a right, Kadungure committed a serious offence of fraud and there were reasons to believe he could flee to South Africa, where he has another home.
The ruling shocked both the defence and State counsels, who had not opposed the granting of bail of $1 000.
The court had to adjourn after the magistrate asked for surety of title deeds and Samukange volunteered to bring his own.
The complainant is Zimbabwe Revenue Authority (Zimra). Kadungure is being charged as the director of Piko Trading and Pioneer Gas.
It is the State case that from February 2009 to May 2016, Kadungure, with the intention of evading paying value-added tax, made a misrepresentation to Zimra that he had made total sales of $2 777 678 inclusive, instead of the actual $9 092 951.
The offence came to light when Zimra conducted an investigation into the activities of Piko Trading.
The State also alleges that in 2015, Zimra conducted lifestyle audits of socialites after observing their excessive expenditure, which was not matching with their tax declarations.
On March 2, 2016, Kadungure was interviewed and advised that he owns a residential property in Domboshava valued at $200 000, a Rolls-Royce motor vehicle valued at R4 million, a Bentley valued at $500 000, a Range Rover valued at R1,1 million, a Mercedes-Benz valued at R1m.
It is alleged Kadungure also advised Zimra that he owns furniture worth several thousands of dollars in Domboshava.
The State alleges Kadungure was asked to prove the source of his income, but failed.
Investigations by Zimra revealed that between January 2010 and December 2015, Kadungure did not declare income amounting to over $9 million from sales realised out of liquefied petroleum gas (LPG) and $1 191 713 being the value of the properties.
As a result, an income tax of $2 134 549 and $$306 866 were raised in terms of section 6 of the Income Tax Act, which he was supposed to pay to Zimra.
Kadungure allegedly violated sections of the Income Tax Act, which states that he was required to furnish or submit income tax returns.
It is alleged it was discovered that during the same period, Kadungure imported LPG from South Africa and Zambia.
He allegedly smuggled 5 298 000kg of the commodity valued at $672 533.
Sebastian Mutizirwa appeared for the State.