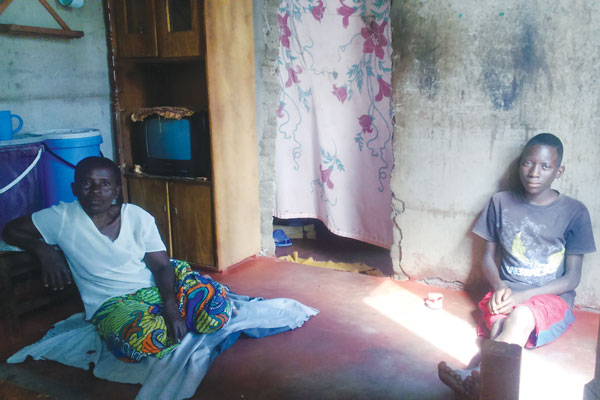 TINEI Kondo (not his real name) struggles to raise his hand as he tries to reach out for a banana fruit on his hospital bedside table.
BY MICHELLE CHIFAMBA
The 11-year-old Kondo has been admitted at Harare's Wilkins Hospital for a month, suffering from severe chest pains. His mother is worried that doctors have not been able to identify the real cause of his ailment.
Several tests have been conducted on Kondo — including investigations to establish if he is not suffering from tuberculosis (TB) — but none so far have turned out positive.
"I am worried that the several laboratory tests could not detect the cause of his illness and his health continues to deteriorate," she said.
"Tinei's sickness has been draining us financially and emotionally, as we don't know how to deal with it."
Kondo suffers from loss of appetite and vomits on the few occasions he eats, his mother said. He also sweats heavily at night and has a continuous cough.
"The doctors have since recommended that he goes for an X-ray after the latest sputum test came out negative for TB," the mother said.
A nurse who has been looking after Kondo since his hospitalisation said she had dealt with many similar cases and believes the young boy suffers from paediatric TB, which is hard to detect.
"We handle many cases of children that exhibit symptoms associated with TB such as weight loss, loss of appetite and sweating at night," she said.
"However, the sputum tests that we do to detect TB usually come out negative."
She said some of the reasons such tests were not reliable included that some children could not cough out the sputum.
"In most cases, the patients are asked to go for an X-Ray scan, which is an extra cost for parents and some cannot afford it," said the nurse who could not be named for professional reasons.
Health and Child Care permanent secretary Gerald Gwinji said paediatric TB was not getting enough attention in Zimbabwe as more emphasis was being put on tackling the disease among adults.
Charles Sandy, the deputy director responsible for the TB programme in the Health and Child Care ministry, said the prevalence of the infectious disease in children was understated in the country.
"While we would expect 10 to 15% of TB cases to be among children in Zimbabwe, they only represent 7% of the cases reported," he said.
Sandy said diagnosis of TB in children was based on the examination of sputum, tissue biopsy, clinical history and examination for signs and symptoms as well as X-ray scans on the chest.
"While we strive to provide quality health care services, we know there are gaps," he said.
"In 2015, we conducted a baseline survey on childhood TB and we identified some gaps and appropriate interventions were designed and implemented to address the challenges.
"Inadequate health worker knowledge, skills and resources for collection of samples in young children and limited access and use of appropriate diagnostic tools have been some of the major drawbacks in the fight against paediatric TB," Sandy added.
According to a recent report by the International Union Against Tuberculosis and Lung Disease (The Union) titled Silent Pandemic: A Call to Action Against Child Tuberculosis, paediatric TB is often overlooked, but claims thousands of lives annually.
"The massive toll of deaths among children results from systematic disregard for children's rights to health," read the report in part.
"Within global public health, it is an open secret that health systems neglect children with TB because children are less contagious than adults, and because the standard tools used to diagnose TB work less well in children."
The Union said more needs to be done to tame paediatric TB and avoid child mortality.
"This neglect can no longer be excused on grounds of economy or expediency," added the report.
"TB is preventable, treatable and curable. Multiple international agreements state that equal access to medical care is a basic human right, along with the right to enjoy the highest level of personal health possible.
"The continuing medical neglect of child TB, resulting in millions of avoidable deaths, constitutes a human rights violation by any reasonable measure."
"Tackling paediatric TB needs more integrated, family-centred approaches to prevention and engagement with the wider health sectors, including the maternal and child health sectors."
The National TB Control Program in partnership with The Union are currently working on building capacity among health care workers through building their skills for early diagnosis of children infected with TB, collection of childhood TB specimens, effective management of children diagnosed of TB and use of newer technology in the diagnosis of childhood TB.
In addition, community-based health workers are also being capacitated to identify the signs and symptoms of childhood TB in the community, refer children exposed to TB to their nearest health facility, record and report TB-related data in the National TB Programme's community registers and increase awareness on childhood TB.
In 2018 alone, a total of 21 priority districts have been identified and are being supported through a USAid's Challenge TB funding facility.
Furthermore, the NTP in partnership with the Elizabeth Glaser Paediatric Aids Foundation early this year launched a four-year project to fight TB among children.