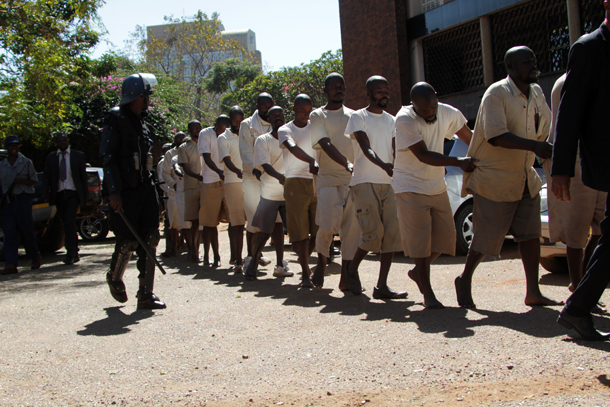 MARONDERA police have arrested three suspected robbers linked to a spate of car thefts recorded in Mashonaland East province over the past two months.
JAIROS SAUNYAMA
Vincent Chikasha (19), Lawrence Marimbizhike (32) and Alfred Dzobo, all of Goromonzi who allegedly targeted pirate taxi drivers, were arrested after they were found in possession of two stolen vehicles.
Provincial police spokesperson Inspector Tendai Mwanza confirmed the arrests, saying investigations were in progress to verify if the suspects were not linked to other vehicle theft cases.
"As police we urge pirate taxi drivers to be on alert when hired by strangers," he said.
According to police, on July 29, Kudakwashe Maliseni of Goromonzi was operating a pirate taxi at Majuru business centre when he was approached by the three accused who allegedly hired him to drive them to Valley Grower's Farm for a 'funeral.'
It is reported that upon approaching Cyclone Acturus Farm, one of the suspects pulled a knife and stabbed Maliseni several times, dragged him out of his vehicle and sped off.
However, on August 9, Maliseni received information that his vehicle had been spotted at Majuru business centre but with different registration number plates fixed on it.
He tipped police detectives who arrested Marimbizhike and Chikasha.
The pair then implicated Dzobo who was also arrested.
Police said they later received information that the suspects had also allegedly robbed Brian Ngilazi of his Honda Fit vehicle on July 15 using a the same modus operandi.
It is reported that the trio hired Ngilazi after him that their vehicle had developed a fault at Akasaba Farm outside Marondera.
One of the suspects pretended to be a motor mechanic as he was clad in a greasy worksuit.
The suspect allegedly asked for a recess before pouncing on Ngilazi, stabbed and then threw him out of the vehicle and sped off.
Upon their arrest, the suspects led the detectives to Yafele village in Goromonzi where the wreckage of Ngilazi's vehicle was recovered.