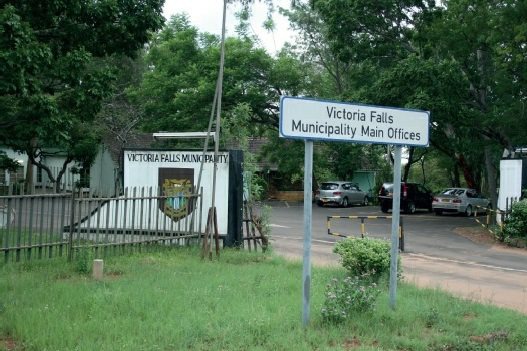 THERE was chaos at the Victoria Falls Council offices on Wednesday evening as residents revolted against the alleged imposition of mayoral candidates and interference in balloting by coalition representatives.
BY NOKUTHABA DLAMINI
The drama started after the 11 inaugurated councillors had just finished casting ballots for the mayor and deputy.
Ward 1 councillor Margaret Varley and ward 9 councillor Somvelo Dlamini were vying for the mayoral post, while ward 6 councillor Ephias Mambume and Patricia Mwale from ward 4 were contesting for the deputy's position.
Dlamini opted to contest for the post of deputy mayor, leading to Mambume and Mwale pulling out of the race, arguing that Varley could not run uncontested.
Dlamini then requested for a-10 minute private meeting as councillors, party officials and residents called for postponement of the polls on grounds that the MDC Alliance had interfered with the polls as it had sent representatives to monitor the process and ensure Varley's victory.
Some councillors said they were being threatened and were on the edge of being expelled from the party.
Mxolisi Ndlovu, the alliance's provincial secretary, confirmed that Dlamini, Mambume and Varley had gone for interviews in Harare, adding that the withdrawal of other candidates was legal.
Hundreds of residents who had stormed into council premises and kept waiting outside the boardroom said they had "politically matured" and were ready to take responsibility of their town. They also said decisions about the town should come from councillors they had elected.
"They sent a party representative from Harare who was giving councillors clear instructions right in front of us during the nomination as to what they should do. As the residents, we are saying it is a stage where every resident has got a decision to make and people made a decision," Residents Association chair Morgan Dube said.
"Our people know whom they want and they will not be dictated to by anyone, including Harare or any political party on whom they should choose because these are the people who chose these councillors and gave them the mandate to make decision in the boardroom on their behalf, so these councillors were supposed to vote in a free and fair manner, not being told what to do."
Gladys Desouza, a party supporter, weighed in saying that they wanted someone easy to work with, someone who understood the local culture
"We have worked with Varley as supporters and she does not speak any language except English and whenever we hold meeting, she walks away whenever she gets irritated. We want someone with patience and one who works for the people, even those with disabilities regardless of race and a local person will be fit for that."
The MDC Alliance provincial youths said they were also not happy with candidate imposition. Victoria Falls town clerk, Ronnie Dube, said the Local Government ministry should intervene.
The inauguration was being chaired by Hwange district administrator Simon Muleya.