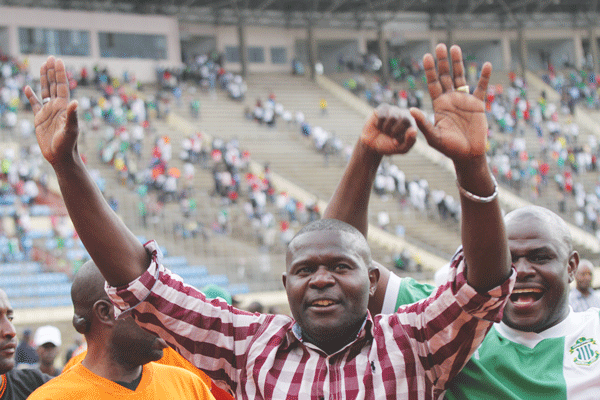 CAPS UNITED . . . .(1) 2 NICHRUT . . . . . .(0) 1
WISDOM Mutasa ended Caps United's goal drought with his first goal in his first start before substitute Hardlife Zvirekwi sew up the contest against 10-man Nichrut in a Castle Lager Premiership tie at the National Sports Stadium yesterday.
BY TAWANDA TAFIRENYIKA
Mutasa had endured a frustrating period warming the bench since he joined from Dynamos, as he struggled to hold down a first team shirt.
But his patience paid off after he was finally handed a starting place and he did not disappoint as he headed into the nets a cross from Milton Ncube inside the opening minute. It was refreshing for Caps United, who had not scored a goal in the last six matches.
The Green Machine were sloppy despite having gone into the lead, as Nichrut dominated possession and threatened with some dangerous raids.
The visitors, who finished with a man short after Rodrick Mutuma was sent off for a second bookable offence in the 67th minute, kept probing, with the former Caps United striker initiating some of the moves in attack.
They came close at the stroke of the first half when David Boriwondo's header was cleared from the lines by Dennis Dauda.
Dauda, however, appeared to have retreated from the goal line when he cleared the ball out.
Caps United coach Lloyd Chitembwe made a double substitution at half-time, bringing on Zvirekwi in place of Peter Moyo and Cabby Kamhapa, who came in for Dauda.
He also brought in Mitchell Katsvairo for John Zhuwawo on 49 minutes.
Despite the changes, it was the visitors who continued to enjoy much of the possession, with Mutuma coming close on 54 minutes after breaching the Caps United defence before he was sent off minutes later by referee Nomore Musundire for a second bookable offence after fouling Method Mwanjale.
That appeared to deflate Nichrut, as Zvirekwi doubled the lead on 77 minutes, profiting from a wonderful delivery from Ncube.
Still, the visitors refused to throw in the towel and veteran forward Farai Vimisai, who came in the second half for Shepherd Sithole, found the back of the net with a curling effort three minutes from full time.
Chitembwe was a relieved man.
"Today, it was a bit different. The difference was in terms of attitude and the two goals we scored was the other difference. I thought Wisdom's first goal gave us the leverage to settle and Hardlife's goal gave us the confidence. I am also happy with Milton's contribution, with those two assists. He has unbelievable technique in terms of delivering into the box," he said.
His counterpart, John Nyikadzino, was disappointed with the result.
He appeared to blame the match officials for the defeat.
"First of all, I want to commend my team for a splendid performance. What I can only say is that we lost because we were away from home. I will not elaborate on that. But definitely, we are going to survive relegation," he said.
Teams
Caps United: P Chigumba, V Musarurwa, D Dauda, S Makatuka , D Dauda (C Kamhapa, 46'), M Mwanjale, D Mukandi, P Moyo (H Zvirekwi , 46'), J Ngodzo, M Ncube, W Mutasa, J Zhuwawo (M Katsvairo, 49')
Nichrut: S Chakwana, E Mwinga, T Hapazari, D Boriwondo, T Ndlovu, C Rusere, S Sithole (F Vimisai 67'), J Maliselo, R Mutuma, G Bhero, (A Kanchwachwa, 74') F Bushiri