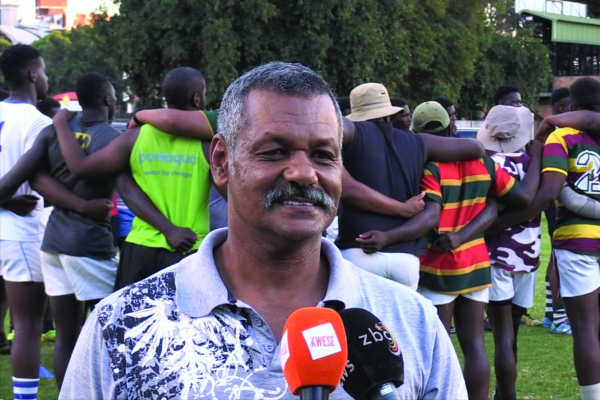 SABLES coach Peter de Villiers has lashed out at former Springboks winger Tonderai Chavhanga after his recent criticism of the national team's failure to qualify for next year's Rugby World Cup in Japan, which the former player blamed on the coach.
BY DANIEL NHAKANISO
The 34-year-old Masvingo-born former South Africa national team star winger — the fastest rugby player in the world at the peak of his career — poured out his heart on Zimbabwe's disastrous World Cup qualification campaign, calling on the Zimbabwe Rugby Union (ZRU) to fire De Villiers.
Chavhanga, who has been a pundit for the online South African rugby news site, Rugby365, thinks De Villiers, who signed a two-year contract with ZRU in February with the goal of leading the Sables to the Rugby World Cup, had failed after presiding over a disastrous campaign in which the Sables narrowly missed relegation from Africa's top tier group.
"We have seen how many players have come out of that country (Zimbabwe), tremendous amount of talent… It was very noble and a very good gesture and intent by Zimbabwe Rugby Union to employ Peter de Villiers," Chavhanga said on Rugby365's podcast on Tuesday.
He added: "When he (De Villiers) was appointed, he promised that he would get us (Zimbabwe) to the World Cup and he failed. I feel that we need something a bit different. Whatever approach he took this year clearly didn't work and I think for the amount of money that he is getting, as a Zimbabwean, I would have expected better results." Chavhanga, who wrote his own piece of history after scoring a record six tries on debut against Uruguay in East London as a 21-year-old in June 2005, added that he felt ZRU should start looking for another coach. "I think it's better to get someone else," he said. This did not go down well with De Villiers, who immediately hit back during an interview on the popular South African radio show Marawa Sport Worldwide, hosted by seasoned television presenter Robert Marawa, on Tuesday night. The former Springboks coach, said Chavhanga had no moral standing to criticise him, because he had "run away from the problems of his own country".
"You know, I don't want to get into that conversation too much, but for someone who ran away from the problems of his own country when I was there trying to help the people of Zimbabwe, he is wrong.
"There are so many talented athletes in Zimbabwe and these guys struggle to choose whether they want to play rugby, cricket or soccer when they leave high school," De Villiers said.
The South African coach was criticised for his selection policy after refusing to incorporate several foreign-based players plying their trade in different professional leagues around the globe into the Sables squad.
Instead, the 61-year-old South African coach persistently kept faith in a core group of young players, mainly locally-based and a few seasoned players who found the going extremely tough against Africa's top-ranked teams. De Villiers' selection stance led to sharp differences with his assistant and former coach Brendan Dawson, who was reassigned midway through the campaign.
Zimbabwe managed just a single win against Uganda and a draw against Morocco while losing to Namibia, Kenya and Tunisia in a campaign where they were expected to qualify for the World Cup for the first time since the 1991 campaign, but ended up escaping relegation by the skin of their teeth.
The ZRU board is expected to meet on September 29 to review the South African coach's first season in charge.