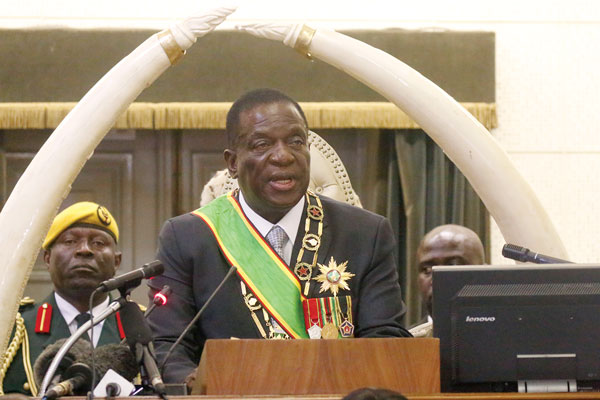 WHILE heckling and walkouts during parliamentary sessions are common the world over, and are considered legislators' privileges, it is important that in countries like ours, where a positive attitude may be the difference between life and death for citizens, lawmakers are advised to exercise this right with a modicum of caution.
Newsday Comment
On Tuesday, opposition MDC Alliance legislators, whether justified or not, exercised that right as they walked out on President Emmerson Mnangagwa as he set out to deliver his State of the Nation Address and officially open the First Session of the Ninth Parliament of Zimbabwe.
We believe that after walking out on Mnangagwa, whose election they have refused to recognise over alleged electoral fraud, the opposition needs not lose sight of their mission, given that the country is battling a myriad of problems which urgently need legislative intervention.
A poisoned political environment, fanned by the opposition's continuous rejection of election results, has resulted in Zimbabwe bearing the pariah tag.
While electoral fraud must never be tolerated, it boggles the mind that the MDC Alliance, in this instance, and, as has happened in previous elections, is willing to accept the results of parliamentary elections in areas that they won. They are not challenging why and how they won in these areas.
The positive energy that permeated the country following the change of guard in November last year up to the unfortunate August 1 shooting incident should have been used as a springboard to allow Zimbabwe to take its rightful place among the family of nations.
The behaviour of the opposition is akin to one arguing they will never eat baboon meet, but are willing to take soup from the same pot the meat would have been cooked. It reveals a false sense of entitlement to rule at all costs.
Make no mistake, the opposition has a right to cry foul and challenge electoral outcomes, but there is a time to draw the line and say if our country's highest court has ruled, as happened with the Constitutional Court, from then on, Zimbabwe needed to come first. Our people have to be the priority, the same people the opposition would want to lead at some point.
It helps no one for the country to slide back into the economic abyss that we so want to run away from, and the negative attitude from the opposition does not help our cause. It only helps assert the views of those against the progress of our country.
Before the new session even gets underway, the opposition MPs embarrassingly and in deplorable fashion heckled and insulted Chief Justice Luke Malaba and the Zimbabwe Electoral Commission chairperson Justice Priscilla Chigumba when they came to preside over elections of presiding officers of Parliament and their swearing in.
No Zimbabwean should accept such behaviour, no matter the argument.
Such conduct does not promote unity, but only helps to sow seeds of disharmony and this is the last thing that Zimbabwe needs.
The country needs all people to work together for its development and progress. Some positive energy will go a long way in helping our country out of the mire.
Zanu PF MPs did the same in 2008 after then MDC-T chief whip Innocent Gonese introduced a motion on electoral violence. Such conduct is never in service of the nation, but narrow parochial interests.
This must end and all lawmakers are enjoined to put their shoulders to the wheel in service to the motherland. Zimbabwe needs a united people now more than ever.