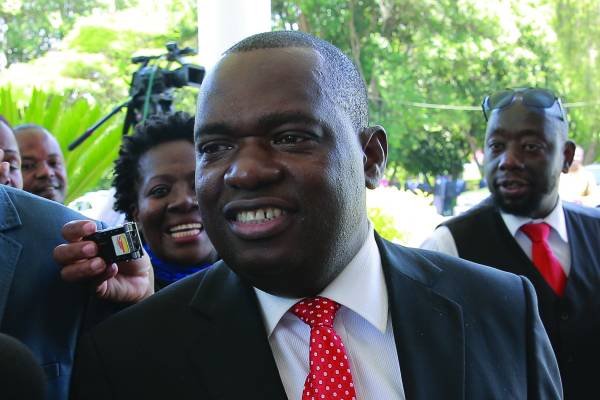 PRESIDENT Emmerson Mnangagwa has come under fire for allegedly violating the Constitution by allowing former Cabinet ministers to continue discharging their duties after their term of office effectively ended the day he took a new oath of office over a week ago.
BY BLESSED MHLANGA
Mnangagwa travelled to China with a delegation which included former Foreign Affairs minister Sibusiso Moyo, who continued to discharge their duties without taking oath of office in violation of section 108 of the Constitution.
MDC Alliance principal and constitutional law expert Welshmen Ncube said anyone who continued to act as minister following the inauguration was in wilful disobedience of the law.
"I am not sure that there is anyone as to think that after the President was sworn-in, you are still a minister. The law is pretty clear, ministers remain in office after the elections together with the former President," Ncube said.
"However, as soon as a new President is sworn into office, anyone who held the portfolio of minister ceases to be a minister. So anyone who actually pretends to be a minister, does any ministerial act, that act is invalid and unlawful."
Section 108, which deals with the tenure of ministers and deputy ministers, reads in part (1): "The office of a minister or deputy minister becomes vacant (c) upon the assumption of office by a new President."
Section 108, subsection 4 further states that all ministers cease their duties once the President is sworn-in and they have to take a new oath if they are to continue in their position.
"Subject to this Constitution, in the event of dissolution of Parliament, ministers and deputy ministers continue to hold office as such until the President elect assumes office after a general election," it reads.
Turning to the China trip, Ncube accused Mnangagwa and his delegation of ministers of wilfully violating the law.
"It's clearly unlawful. In fact, it will amount to a wilful violation of the Constitution. If anyone purports or allows anyone to refer to them as ministers in China, they will be acting in wilful deliberate violation of the Constitution," he said.
"If President Mnangagwa himself allowed those people to travel as ministers and to be referred to as ministers, he too will be acting in wilful violation of the Constitution." Acting President Constantino Chiwenga, however, claimed the former ministers were still holding office during a recent official visit to Kanyemba.
"The President cannot set a new Cabinet before MPs are sworn-in. It is so simple. For now, we have those that have been there because they still hold office," he said.
Ncube called out Chiwenga, saying his interpretation of the law was flawed.
"There is no such provision at all. I don't know where he is getting that. I don't know which clause he reads which makes him conclude that at all. Remember that you don't even need to be substantively a Member of Parliament to be sworn-in. You are only required within 21 days to get a seat as an MP after being sworn-in as a minister," he said.
Zanu PF legal affairs secretary Munyaradzi Paul Mangwana also jumped to Mnangagwa's defence.
"There is nothing illegal. There must be continuity in the running of the affairs of this country and we wrote our Constitution deliberately to ensure that there is continuity from the past government and the next one which is coming," he said.
Pressed on the provisions of the Constitution, Mangwana said those who travelled with Mnangagwa were not ministers.
"This is why they are not called ministers. They can be anything without being ministers. They can be his aides, for example. They can be his advisers. They can be anything. They don't need the title of minister in order to render service to the President," Mangwana said.