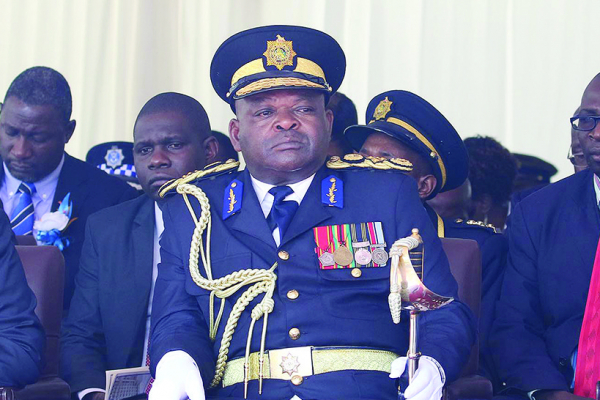 POLICE Commissioner-General Godwin Matanga has been taken to court by an equipment company which is seeking an order to compel the Zimbabwe Republic Police to buy its speed trap machines and printers worth nearly $2 million under a tender awarded over six years ago.
BY CHARLES LAITON
According to Logivate Incorporated, Matanga appears reluctant to allow the firm to proceed with the tender and as a result, it has been forced to petition the court claiming damages for breach of contract signed between the parties on August 6, 2012.
Through its representative Zvarevashe Masvingise, the firm on Monday issued summons against Matanga, in his official capacity, and also cited Home Affairs and Cultural Heritage minister Cain Matema as a co-respondent though they are yet to enter appearance to defend.
In its declaration, Logivate Incorporated said it was "seeking an order for specific performance against Matanga and Matema for the payment of the deposit and sums due in terms of the contract signed and concluded between the parties" for the procurement of 110 speed trap machines and printers.
Logivate Incorporated further said if the law enforcement organisation was not willing to go by the tender, it should, therefore, pay damages in the claimed amount for breach of contract.
The firm said it was awarded tender number ZRP/FT 05/11 by the State Procurement Board on June 22, 2012 following which it entered into a contract with the police force on August 6, 2012 for the procurement of traffic law enforcement equipment.
"First defendant (Matanga) expressed its [police force] desire to purchase the said equipment on conformation of an order to be obtained by the plaintiff (Logivate Incorporated) and, indeed, plaintiff obtained the order requested by the first defendant," the firm said.
"In partial fulfilment of its obligations, first defendant undertook to make an advance payment of 60% on placement of an order as per clause 3.0 of the contract, with the remaining 40% being paid after delivery of the said 'equipment' which was to be effected within four to eight weeks from the date of receipt of initial deposit."
Logivate Incorporated said in breach of the signed terms of agreement, Matanga had apparently, "failed, neglected and/or refused to pay the deposit in terms of the contract or at all", prompting the firm to approach the court for recourse.
It was not clear from the court documents why Logivate took so long to fulfil the tender.