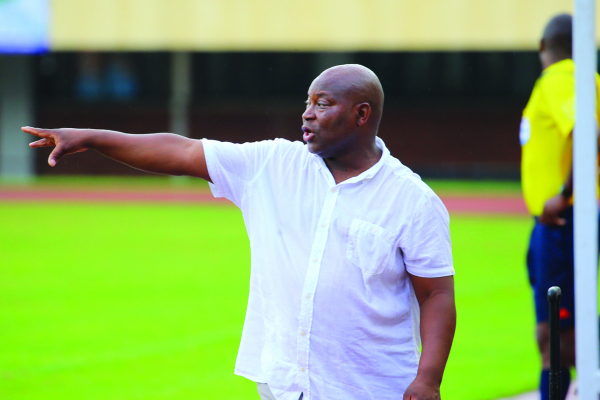 DESPITE a lean spell in the last few games, underlined by two home defeats to Chicken Inn and Ngezi Platinum Stars, Highlanders' coach Madinda Ndlovu returns to Barbourfields Stadium confident that his charges will deliver against Dynamos in the rescheduled Castle Lager Premier Soccer League match set for Sunday.
BY FORTUNE MBELE
Ndlovu yesterday said the match against bitter rivals brings yesteryear memories when he could still do magic with his feet, as the two giants routinely fought for supremacy.
"My feet are itching as I speak, but age can't allow me to go out there and do what I could 20 years ago, but one can feel the excitement that is there. The vibe is there and it is not somewhere in the air, it is within the players themselves. You will be amazed if you come to training because you would not think that this is a team that lost last weekend," he said.
The outspoken Highlanders gaffer said morale in camp was amazing despite the recent poor run.
After a goalless draw to Nichrut at Ascot, Highlanders lost to Chicken Inn 3-2 and 2-1 to Ngezi Platinum Stars at their beloved BF, but Ndlovu yesterday said he couldn't wait to be in the dugout on Sunday after winning the reverse fixture in Harare in April.
"Games like the one that we are going to play this weekend are games that inspire everybody. I would not want for anything to miss being on that bench unless I am fired in the next two minutes or so. I am looking forward to the match," he said.
The Bosso mentor pleaded with fans to abstain from violence and accept any result of the day.
"What we can only say to the fans and everybody involved is that let us concentrate on the core business of the day. At the end of the day, football is the winner. There will always be one result of a game and it is in three ways; you win it, you draw it or lose it," he said.
"We have to control our emotions and anger and accept the result of the day. It won't change. What we would ask of our followers is to understand where we are heading with this project.
"They (the fans) are partners in the journey. Let us see how it unfolds and then we can talk and make decisions at the end of the project if it is not going our direction."
Highlanders have hiked charges for the game, with fans expected to pay $5 for the rest of the ground, $10 for wings and $15 for the VIP.