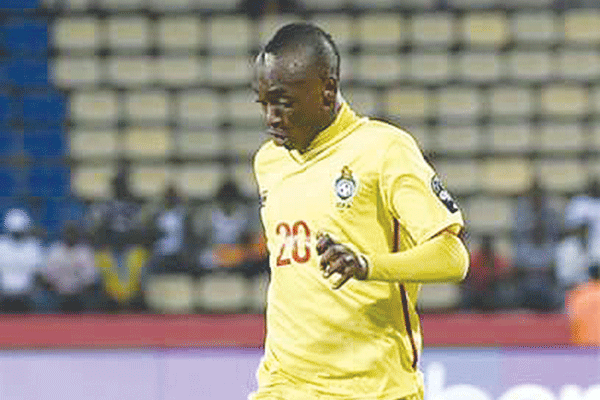 Pre-match narrative was about Khama Billiat's fitness. Post-match narrative is and will be about Billiat's finesse.
BY Kevin Mapasure
Billiat got in the end of a perfect goal that had possession, positioning, precise passing and perseverance as its key components as Zimbabwe picked up a precious point in Congo Brazaville last night.
Yet the preceding week had been dominated by fitness issues as Billiat was carrying a hamstring injury that was threatening his participation in this match, but here he was emerging the hero for the Warriors as they earned a vital draw in their bid to qualify for the 2019 Africa Cup of Nations (Afcon) finals from Group G.
Yes, some will be disappointed by the fact that Zimbabwe could have collected all three points had captain Knowledge Musona converted a gilt-edged chance in the first half after he was first denied by the goalkeeper before he shot wide with a yawning net presented before him.
But if one is to consider that Zimbabwe are still three points ahead of one of their main rivals for the two slots to the Afcon finals, then this is a wonderful result. Congo Brazaville still have to come to Harare and they failed to collect three points at home.
Before kick-off there were so many questions about Billiat's fitness after he had been listed as a major doubt for this match.
There was interest about the formation that coach Sunday Chidzambga would employ, but once he named Musona, Billiat, Kuda Mahachi and Evans Rusike in his starting 11, all defensive approach notions were dispelled.
In the first half, everything fell into place for Zimbabwe. Congo Brazaville tried to play this match at a frenetic pace, but Zimbabwe poured cold water on those ambitions as they dictated the pace, choosing when to be quick and when to be slow.
Congo Brazaville barely created any chances in the first half and Zimbabwe could have gone to the break with a two-goal lead had Musona not wasted a good opportunity.
To his credit this was the same Musona, who could have chosen to shoot when the Warriors passed and perforated the Congo defence on 22 minutes with Billiat starting and finishing the move.
Billiat and Mahachi combined to carry the ball out of their own half, in what seemed a defensive move, but soon the Congo Brazaville defence was desperate and despairing. Once in the Congo Brazaville half, Billiat fed Rusike, who returned the ball to the former to pick out Musona.
Musona first checked if he was not offside when he received the ball and when he was certain everything he had done was legal, he plotted his next move.
Realising he was at an acute angle, he waited patiently for Billiat's arrival before squaring the ball for the Kaizer Chiefs forward to thrash it into the roof of the net.
Moments later, Musona could have doubled the scores but he forced a save out of the goalkeeper before missing the target at the rebound.
Meanwhile, Zimbabwe's defence was comfortable all the while, with goalkeeper George Chigova's kit as clean as it was when it was presented to him before the match.
Come second half, things changed as Congo Brazaville came out firing and threatening and just five minutes after the restart, they were level after a good interchange of passes with Thievy Bifeuma getting to the end of the move.
There were so many anxious moments for Zimbabwe in the first 15 minutes after the break, but the Warriors soon composed themselves and weathered the storm. It was in the end a professional job by the Warriors who seem to have finally learnt how to manage games and achieve what they want.
The Warriors maintained their pole position of Group G after Liberia also held the Democratic Republic of Congo to a one-all draw last night.