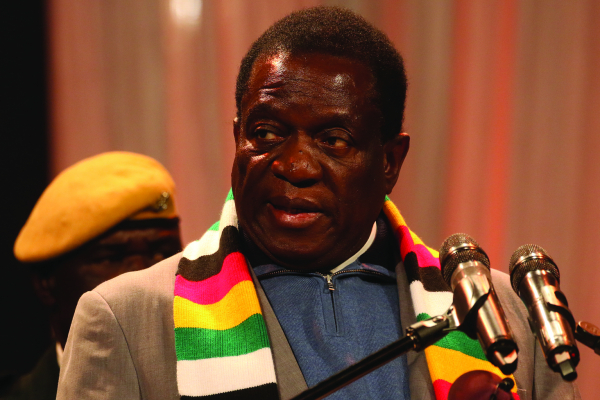 THE Zimbabwe Christian Alliance (ZCA) has urged President Emmerson Mnangagwa (pictured) to fully implement devolution in his next government and avoid "piecemeal concessions".
BY TATENDA CHITAGU
Speaking at an outreach programme at the St Peter and Paul Roman Catholic Church in Masvingo recently, ZCA executive director Reverend Useni Sibanda said it was high time Mnangagwa totally breaks from government's past and commit to reforms.
Devolution was incorporated into the current Constitution adopted in 2013, but has not yet been implemented.
"It's important that devolution be implemented now. During campaigning in the run-up to the July 30 polls, all political parties promised to devolve government. President Mnangagwa indicated he is willing to implement it, but we challenge him to do it in full and avoid piecemeal concessions, or just create a veneer of devolution. It's time to move from mere rhetoric. What is important is how do we implement it?
"So we are doing public awareness meetings on devolution, taking people's views, so that their concerns can be incorporated as well as hear their expectations on devolution as most confuse devolution with secession," Sibanda said.
Residents pressure group, Masvingo Residents and Ratepayers Alliance, said people in the province should benefit first from their natural endowments.
"We are urging the new government to prioritise implementation of devolution as enshrined in the Constitution. Devolution will definitely improve the economies of provinces, including Masvingo as locals will have control over their natural resources. The resources will not be taken elsewhere as what used to happen due to centralisation of power. Provinces will have power over their economies," said MURRA spokesperson Godfrey Mtimba.
MDC Alliance Masvingo provincial chairperson James Gumbi said instead of coming up with governors or Ministers of State, Mnangagwa should set up provincial councils.
"Provinces always had governors and Provincial Affairs ministers who had little control over the finances of the provinces as they were prescribed what to do without deciding on their own. Instead, the provincial councils should sit down and decide on their own and stir the economic development of their respective provinces," Gumbi said.
National Patriotic Front spokesperson Jeffreyson Chitando said Mnangagwa should empower the provincial councils to have decision-making powers.
"The provincial councils should have powers to decide what is good for their provinces and their recomendations should be taken aboard. They should not be dicatated to if we are serious about devoluton. Power should be truly decentralised," Chitando said.
At his inauguration, Mnangagwa pledged to prioritise devolution and decentralisation in the running of national affairs in his bid to revitalize the economy and improve the livelihoods of Zimbabweans.
Zanu PF, in its primary elections, also selected individuals for the provincial council positions, an indication it may be willing to walk the talk.
Civil society organisations and political parties from Matabeleland province have for years been calling for devolution, claiming that they were marginalised and lagging behind in development due to centralisation of national affairs.