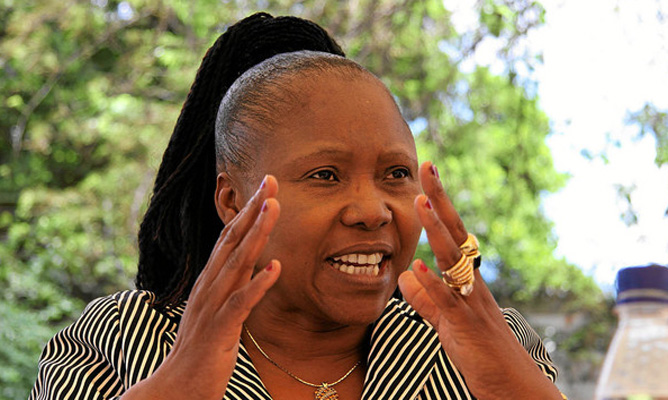 Zanu PF's first woman chairperson, Oppah Muchinguri-Kashiri, (OM) broke new ground when she was appointed Zimbabwe's first female Defence minister. She speaks to NewsDay (ND) reporter Blessed Mhlanga on the journey she has walked, challenges she has faced and her plans for the ministry. Below are the excerpts.
INTERVIEW: Blessed Mhlanga
ND: How do you feel stepping into that important role and breaking new ground in both government and party?
OM: This is something that we appreciate as the women of Zimbabwe, but moreso as Zanu PF. This was overdue considering that we shared trenches with our male counterparts during the liberation struggle. So we owe it all to the new and second President of the Republic who is gender sensitive and appreciates that the war which liberated this country was fought by both men and women. So for this, we appreciate.
ND: There have been calls for security sector reforms amid allegations that the military is an extension of Zanu PF, how are you going to tackle this as Defence minister?
OM: You need to appreciate that this is delegated power. The Commander-in-Chief is the President. I am looking forward to conferring with the President if it means that the reforms that you are talking about will be necessary, because this has been an issue raised over and over again. But I am really looking forward to working with my colleagues who are still within the defence sector. I am willing to learn as much as possible. You also need to know that our force is recognised the world over. You know they have served at UN (United Nations) and AU (African Union) levels. With the challenges that you are raising, I am sure to these agencies they don't see any problems, but they see excellence on the work performed by our forces.
ND: As a war veteran, what things are on your to-do list as you take over this important ministry?
OM: I am glad because the war veterans are part and parcel of the portfolio. The new Constitution is very clear. It articulates the significant role that was played by war veterans and war collaborators and recognises that we need to do as much as possible to address their concerns.
When you go to the United States or South Africa, or in the region, war veterans have a special place and these are issues that I am going to be really looking into. The President has a passion and a soft spot for the welfare of war veterans. So I hope this is an opportunity for me and (Victor) Matemadanda my deputy to address these issues once and for all. So we see this as an opportunity to finally take on board their aspirations.
ND: The national cake is small and government is struggling to even pay fees for children of war veterans, do you think government can afford taking care of war veterans?
OM: We are not thinking small. I am sure you know the developments. You know even the selection of Cabinet really demonstrates serious business. So we are looking forward to growing the cake. That cake will have to be shared, especially with those that paid the supreme sacrifice for us to get to where we are today.
ND: Government is accused of dumping and refusing to compensate war collaborators, what plans do you have for them?
OM: Yes, they are part and parcel of the ministry and like you are saying that resources permitting we will definitely address the issue. I don't have a timeframe for it because resources will determine how fast we can address these issues.
ND: You have come through the structures of Zanu PF and today you are the most powerful woman in the country. Tell us more about this journey?
OM: It has been very tough because we are fighting for limited space. As you will see, Cabinet is very small. Women are happy that although not many are in Cabinet, but you have seen ministers of State, who will be representing us in the provinces. Most of them are women, so we really celebrate that and deputy ministers as well. So for us it is quite an honour, but we are looking forward also, even in Parliament to have women at the helm chairing various committees. So for us, we are very happy even though it's slow. We are eventually getting there. The nation has matured and we hope that the contribution of women is being felt.
ND: Have you faced any challenges either in government or party from people who resist your leadership on the basis of your gender?
OM: Well here and there, there are challenges of course, but it's individuals. The organisation is very clear in terms of the Constitution, but individuals, yes they have a problem. But we eventually find each other and authority is respected.
ND: Have you ever felt like you are just a figurehead being placed there just to fill the women's quota and that you have no genuine power?
OM: My dear, this path that I have walked being a Minister of Women Affairs, I had real power and managed to push through a number sweeping changes and these cannot be viewed as cosmetic. Even in Parliament, you can see women's representation in decision making, it speaks volumes. So to say I am a figure head would not be true. We need to give credit where it is due. The men in Zanu PF have been very understanding. Even men of Zimbabwe, you have been very understanding, so give yourself credit, but of course attitudes are very hard to deal with and address.