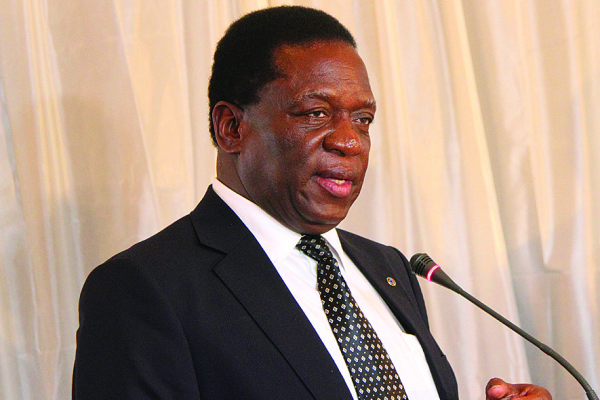 ONE of the country's leading Christian bodies, the Zimbabwe Council of Churches (ZCC), has written to President Emmerson Mnangagwa, urging him to restore economic and political stability following the July 30 disputed polls by implementing a raft of reforms, among them a comprehensive overhaul of the security sector to avoid civil unrest.
BY EVERSON MUSHAVA
The army is at the centre of what Mnangagwa called at his inauguration a "regrettable and unacceptable" crackdown following the vote, in which seven people were shot dead. Mnangagwa, who has the sole mandate to deploy the army by virtue of being the Commander-In-Chief of the Zimbabwe Defence Forces in consultation with Parliament, has denied ordering the army onto the streets.
He has since appointed a seven-member commission led by former South African President Kgalema Motlanthe, to investigate the episode.
In a letter addressed to Mnangagwa, the 27-member ZCC, which boasts of a combined following of over three million congregants, also called on Mnangagwa to make his government more transparent and cut down on expenditure, among other reforms.
"Since November 2017, there have been rumours suggesting that there is fragmentation within the security forces and that the head of State is not necessarily in charge of some sectors of the security forces," ZCC said in a letter signed by secretary-general, Reverend Kenneth Mtata.
"Some people believe that the apparent division in the security forces is designed to deceive so that it is not clear who is accountable for what actions. The scriptures say: 'Let what you say be simply 'yes' or 'no'; anything more than this comes from the evil one' (Matthew 5:37)."
He added: "To give citizens a proper sense of security, we suggest that you take up comprehensive security services reforms to delineate the roles of the different forces as well as confirming each sector's constitutional mandate."
ZCC urged Mnangagwa to create a new political culture, saying "We hope you will exorcise our politics of all forms of violence."
Mtata said Zimbabweans under Mnangagwa's leadership will need to sit together and agree where they are hurting and where they need healing so that they can walk together.
"Zimbabwe inherited its statehood of fragmented society from colonialism. This fragmentation has continued and deepened with time. There is ethnic division, political division, inter-generational division, rural-urban divide, class divisions, racial divisions, among others. With such deep divisions, Zimbabweans are not able to walk together as the scriptures ask rhetorically," he said.
The grouping of churches also urged Mnangagwa to be thorough in his appointment of Cabinet ministers, saying the "first test of your intention to build bridges will be won or lost in the character of your Cabinet".
"We persuade you to be bold Mr President and put the right people in the right positions. We are saying no more jobs for the boys! Give hope to the nation by having qualified people in the right positions in spite of your own popularity. We, as the church, will support you if you choose to be right than to be popular," he said.
Mnangagwa is expected to appoint his Cabinet any time now following his return from China yesterday, with the swearing-in of the members of the National Assembly already done on Wednesday.
Mtata also implored Mnangagwa to reduce government spending as well as come up with coherent policies to ensure that he transforms the economy. This should also include dealing with the scourge of corruption that has hit the country. "Just like the State of Jerusalem of Nehemiah's day, we also say: 'You see the trouble we are in: Jerusalem (Zimbabwe) lies in ruins, and its gates have been burned with fire. Come, let us rebuild the wall of Jerusalem (Zimbabwe), so that we will no longer be in disgrace (Nehemiah 2:17)," Rev Mtata said.
"The nation has been and is in paralysis through fragmentation, inertia of mutually self-destructing political culture, corruption, policy incoherence and inconsistency, economic decline and international isolation. Further, the announced results show that the electorate is deeply divided. These are the areas we believe, by God's help and the support of the church, you may want to immediately address."
Mnangagwa was also advised to focus on sustainable development without mortgaging the country's resources.
"While invitation to investors is important, existing trade relationships with EU, Asia, and Latin America can allow for quick gains. If we focus on 10 special agricultural products of great quality (flowers, tea, beef, fruit, among others) that will be grown only for EU consumption, we can, in a short space of time, bring in the much-needed foreign currency without losing our natural resources cheaply," ZCC said.