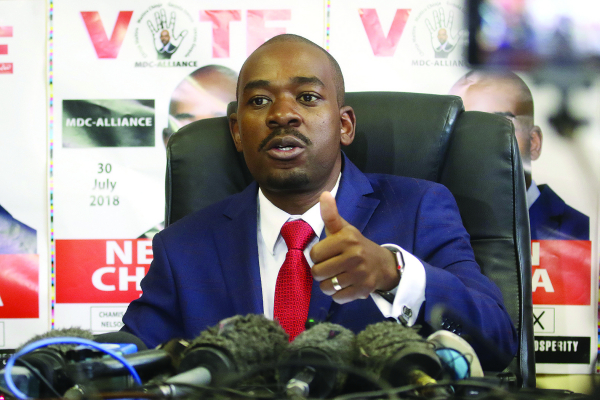 OPPOSITION MDC Alliance Nelson Chamisa has vowed to cause sleepless nights to his political nemesis President Emmerson Mnangagwa's administration after his party nearly made a clean sweep of all urban local authorities, where it now controls 81% of them.
BY BLESSED MHLANGA
In a memo recently sent to various party structures, Chamisa bragged that they now had sway in all key local authorities after winning 26 of the country's 32 urban councils in the July 30 polls where the party also increased its presence in Parliament.
"From this election, we control over 26 urban councils out of 32 (81%) and we must be proud of that. We won 536 council seats. We control all the metropolitan cities and towns, including Harare and Bulawayo. Our support bases are the majority of active people and taxpayers who contribute about 80% of the taxes collected in the country," he said.
The MDC Alliance also recorded a massive increase in Parliament, increasing its seats from 41 in 2013 to 88 inclusive of 24 women legislators elected on the proportional representative ticket which runs out in 2023.
Chamisa also clawed more votes than his now later predecessor, Morgan Tsvangirai who had 33,94%, translating to 1 172 349 votes against former President Robert Mugabe's 61,09%, or 2 110 434 votes in 2013. The party lost control of urban councils in Kwekwe and Redcliff with both electing Zanu PF mayors, and councillors.
But, political analysts said Chamisa's control of urban centres was insignificant as Zanu PF still had firm control of central governance where key decisions affecting councils were made.
"You need to know that Zimbabwe is a unitary State and those who control central government call the shots. So it may well be true that they control local government authorities which contribute a large chunk to the national fiscus, but that goes to the Treasury and the Treasury is controlled by central government which in turn is controlled by Zanu PF," analyst Eldred Masunungure said.
"It depends on the circumstances, especially the relationship that the MDC Alliance happens to have with the central government," he added.
Zanu PF has in the past been accused of frustrating opposition-led councils by suspending them or meddling in their affairs just to make it difficult for them to deliver.
Masunungure said the scenario was likely to continue unless government quickly devolves and give local authorities autonomy to run their own affairs.
Zanu PF legal affairs secretary, Munyaradzi Paul Mangwana said it was wrong for Chamisa to claim to be in control of government's economic hubs – urban councils.
"The economy of this country is not in towns. The economy of this country is land and land is the economy," Mangwana said.
"But we have not done any analysis of these figures, because it does not help anyone because Zanu PF is controlling two-thirds majority in Parliament. This is where you make your laws. It also controls the Presidency; urban councils simply serve the people who stay in town."