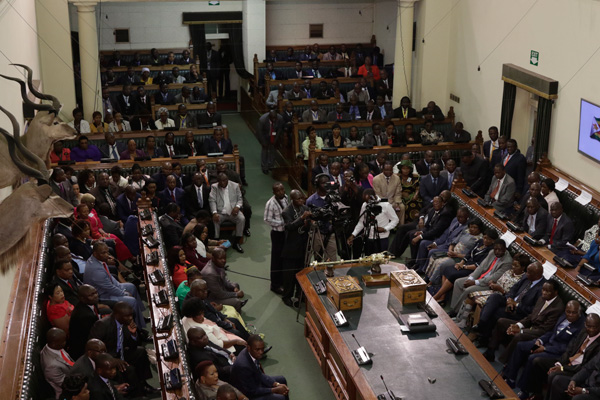 NEWLY-electED MPs are most likely to be sworn in next week in order to allow President Emmerson Mnangagwa to pick his Cabinet ministers from a group of legislators that have taken oath of office, a senior Zanu PF official disclosed yesterday.
BY VENERANDA LANGA/ Tafadzwa Mutacha
Zanu PF secretary for legal affairs, Munyaradzi Paul Mangwana told NewsDay that currently government is being run by Mnangagwa and his two deputies, Constantino Chiwenga and Kembo Mohadi, hence the need for swearing-in of MPs as soon as possible so that the President can pick his ministers from them.
This also comes at a time when independent analysts have formed a website called the "Zanu PF manifesto meter" to track Mnangagwa's delivery, especially pertaining to his electoral promises.
The website has already begun to evaluate government performance even before Mnangagwa has appointed ministers.
"Monitoring Mnangagwa's performance by independent analysts is a good exercise. But I think the analysts are a bit too fast because one cannot get married and immediately get pregnant and have a baby. So at the moment there is nothing to monitor as there is no cabinet," Mangwana said.
"I understand that swearing-in of MPs-elect will be done next week. After the swearing-in of legislators and the election of the Speaker of the National Assembly and his deputy and the Senate President and the deputy, then the President will select his Cabinet from the MPs and the five that he is allowed by law to select outside Parliament."
Mangwana said tracking Mnangagwa's performance now will be too early as there was nothing to evaluate.
"In the future we (Zanu PF) will also find a way to monitor and evaluate our performance being guided by the manifesto. Private analysts are also free to do so and to engage government with their critical analysis of our performance from three months, up to the five years.
"Let us be patient as there is no government at the moment and government is currently composed of the President and his deputies.
This came as Women's Coalition of Zimbabwe (WCoZ) has challenged Mnangagwa to appoint a new presidium and Cabinet that is gender-inclusive in order to strengthen the position of women on governance issues.
Addressing journalists in Harare, WCoZ chairperson Ronika Mumbire said there must be a gender-balanced Executive as well as the appointment of women in health, finance, and education and defence ministries.
"We urge President Mnangagwa and his administration to ensure women's rights are at the centre in the implementation of these commitments. Of critical importance is ensuring that gender-sensitive and gender-responsive structures are strengthened and adequately resourced," she said.
Mumbire said there was need for the implementation of laws that eradicate gender-based violence and the acceleration and finalisation of the Marriage Bill which sets the age of consent to marriage at 18 years.
Mumbire added that WCoZ together with the Women's Affairs ministry and other various organisations had established a database of various competencies that women have across different sectors.
She said the database was submitted to government and the presidium for consideration in the selection of Cabinet ministers.