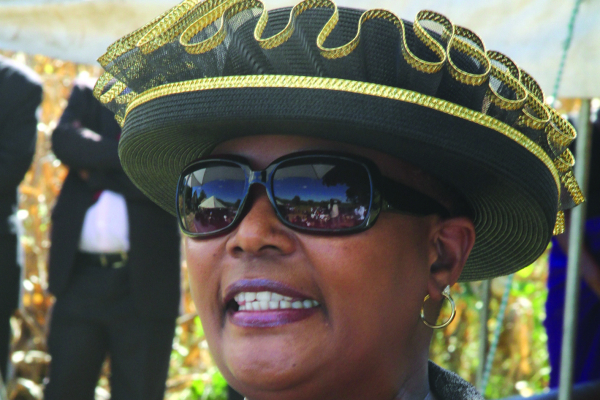 THE Mthwakazi Republic Party (MRP) has taken a dig at MDC-T leader, Thokozani Khupe for endorsing President Emmerson Mnangagwa's electoral victory, saying this automatically stripped her of the "Queen of Matabeleland" tag and could spell doom for her political career.
BY NQOBANI NDLOVU
Khupe and senior officials from her opposition party attended Mnangagwa's inauguration at the National Sports Stadium on Sunday, saying the gesture was a sign of "patriotism". The MRP sad it was not amused.
MRP president Mqondisi Moyo argued Khupe's decision to endorse and associate with Mnangagwa will have negative ripple effects on her political career.
"We feel this move [endorsing Mnangagwa] has disqualified her as a leadership figure in Matabeleland," Moyo told journalists at the Media Centre on Tuesday.
"It is clear she got most of her votes in Matabeleland. She was naturally viewed among the 23 presidential candidates as a Matabeleland candidate. Her embracing of those accused of genocide in Matabeleland is not only shocking, but spells her doom on her political carreer."
The MRP president said Khupe had missed an opportunity to build her political profile by allegedly hobnobbing with Mnangagwa.
"The best she can do for now is to join Zanu PF and stop compromising the opposition," Moyo said.
Khupe's spokesperson Khaliphani Phugeni, however, said the attack was unwarranted, adding the breakaway MDC-T faction was not going to stoop so low and be sore losers.
"I understand the frustrations of the people with regards to Mnangagwa and us attending that inauguration, but there is one thing that people must appreciate that when we contested that election, we were mindful that there was going to be a winner and if we had won that election, we were going to expect people to come to our inauguration because that is how these things work," Phugeni said.
"Remember this issue was there before the election of alleged atrocities that he (Mnangagwa) committed in Matabeleland. Unless they [critics] are suggesting that we should have been sore losers that you participate in a process and then lose and don't go and congratulate the winner."